Area Events
Wisconsin CHEA 2015 Spring Conference
25th Anniversary! May 28-30, 2015
Maranatha Baptist University in Watertown, WI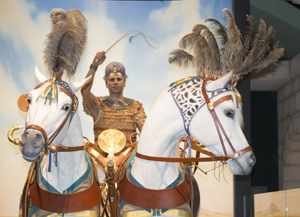 CROSSROADS OF CIVILZATION at the Milwaukee Public Museum
Experience MPM's first new permanent exhibition in more than a decade: Crossroads of Civilization. This exhibit, made possible by the Northwestern Mutual Foundation, explores how the ancient civilizations of Africa, Europe and Asia came together to form an epicenter of complex culture, creating not just a physical crossroads, but an intellectual one as well.
Drawing on decades of Museum-led excavations, research and exhibit-building expertise, Crossroads of Civilization brings the ancient world to life by presenting over 200 artifacts from the Museum's collections alongside dynamic interactive technologies and all-new interpretive content based on emerging research.

JERUSALEM at the Milwaukee Public Museum
Jerusalem, a special film presented by National Geographic, takes audiences on an inspiring and eye-opening tour of one of the world's oldest and most enigmatic cities. Destroyed and rebuilt countless times over 5,000 years, Jerusalem's enduring appeal remains a mystery. What made it so important to so many different cultures? How did it become the center of the world for three major religions? Why does it still matter to us?
Thank You Thursday from 9:00 a.m - 8:00 p.m.

Free general admission to MPM on the first Thursday of every month.

Visit mpm.edu for additional information.
Check out these sites for family friendly activities throughout the month:
What's Happening in Wisconsin!
---
ONGOING EVENTS

ComedySportz for Kids: Get your giggles out during special kid-focused matinees at ComedySportz. Saturdays at 3 p.m. $7.50. 420 S. 1st St. (414) 272-8888.

Family Adventures at Adventure Rock: 21250 W Capitol Dr, Pewaukee; teaches climbing skills to families on Fridays 7-9 p.m. and Sundays 2-4 p.m. Cost is $15/child and free for parents. On Sat mornings from 10 to noon beginners get a "Taste of Climbing". call 262-790-6800.

Open Swim at Pulaski & Noyes pools: Monday - Friday 1 p.m. - 6:45 p.m.; Weekends/holidays 1 p.m. - 5 p.m. Check the date before you go, however. Noyes Pool has a shut-down period of Jan. 31-Feb. 25, 2005. Pulaski Pool has a shut-down period from Jan. 1-Jan. 28th, 2005. Cost $1/child & $2.50 adults.

School-age fun at Milwaukee Public Library: Free programs run through December. For dates & times www.mpl.org or cal 414-286-3091 for a complete brochure. Events include Kitchen Chemistry, Care for Critters & Puppet Art Troupe.

Photography for Kids: Students grade 4-8 learn photography from an expert. Classes begin in Oct & Feb. Call Sharon Lynee Wilson Center for Arts at 262-781-9520.

Astronomical Observations: Froemming Park, 8801 S. 51 St., 1/4 mile north of Ryan Road. Free and open to the public. 414-257-6100. Join members of the Wehr Astronomical Society for deep sky viewing with telescopes provided by club members. You are also welcome to bring your own binoculars and telescopes. If the weather brings totally overcast skies or winds greater than 30 miles per hour, the session will be canceled.

Classic Movies in Classic Mansion: Charles Allis Art Museum, every other Wednesday 6:30-10 p.m., FREE with General Admission to the Museum: $5 Adults/$3 Seniors, Military and Students/FREE Members. Information: 414-278-8295 or cavtmuseums.org

Family Skate at the Pettit: Tuesday 7:10-9:10 p.m. (414-266-0100)

Home Depot: Kids Workshops are free "How-To Clinics" designed for children ages 6-12, available the first Saturday of each month at all Home Depot stores. Children accompanied by an adult construct projects from pre-fabricated kits. The kits are designed to be both educational and practical. Call for store locations 800-553-3199.

Open Gym at Midwest Twisters: Come into the gym and let your children get their wiggles out! Trampolines, a foam pit, climbing & swinging ropes, a rock wall, slides, and safe gymnastics equipment. This is a supervised time, not a structured class, where children can come and play on the equipment. Open Gyms run year round. The days and times are different at each 3 locations, and do change between the school year and summer. Check the schedule here for the location(s) you are interested in. Cost is $5.00 members, $6.00 non-members.

Childrens Story Hour: At Something More in Greenfield, story hour is every Thursday from 10 to 11 a.m. in our play castle.

Feeding Time at the UEC: Join the Urban Ecology Center?s animal residents for lunch. Saturdays at 1 p.m. Free for all ages. 1500 E. Park Pl. (414) 964-8505.

Music on KK: Joyce Parker Productions presents free music concerts every Saturday from 3 to 4 p.m. (donations are appreciated.) 2685 S. Kinnickinnic Ave. (414) 744-8866.

Betty Brinn Children's Museum: participate in interactive stories, songs and puppet shows every Saturday at 11:30 a.m., free w/admission

Raptor Saturdays: Get to know Sir Frederick II, Schlitz Audubon Nature Center's bald eagle, and a few of his feathered friends. First Saturday of every month at 1 p.m. Free with $4 admission to SANC. 1111 E. Brown Deer Rd. (414) 352-2880.

Wisconsin Geological Society's Junior Rockhounds: Meets the second Monday of the month (except July and August) at 6:30 p.m. Call Jody at 414-771-4780

Children's Health Education Center presents health & safety related classes at Betty Brinn Children's Museum on the 3rd Thursday of the month from 5-8 p.m. Free admission.

Classes for Lifestages: Community classes on a variety of health, safety & wellness issues, 1-800-272-3666 (option 2) www.froedtert.com
AMF South Park (South Chicago Ave., South Milwaukee) Family Bowling Specials between 10am and noon every Sunday offers $1 bowling, $1.50 each for shoes, popcorn & sodas. AMF 414-762-9500
Mommy Matinee at South Shore Cinema every Thursday at noon. 7261 S 13th St., Oak Creek 414-768-5960

Milwaukee Art Museum:
Studio Workshop School Program #1 (Grades 3-5): Explore an hour of hands-on art making and an hour docent-guided tour on one of the following topics: Animals, Portraiture, and Color and Design. This program is developed for groups of 20 to 60 maximum students. It is available to your students Monday, Tuesday, Wednesday and Friday from 10 a.m.-12:30 p.m. and Thursday from 11:30 a.m.-2 p.m. The special fee for participating in this program is $6 per student and chaperone, which includes Museum admission.
Studio Workshop School Program #2 (Grades 6-8): Explore an hour of hands-on art making and an hour docent-guided tour on the following topic: Portraiture. This program is developed for groups of 20 to 60 maximum students. It is available to your students Monday, Tuesday, Wednesday, and Friday from 10 a.m.-12:30 p.m. and Thursday from 11:30 a.m.-2p.m. The special fee for participating in this program is $6 per student and chaperone, which includes Museum admission. Contact: Sylvia Peine at 414-224-3828 or sylvia.peine@mam.org
Revised: 5/19/215 - oc