PIONEERS Membership Sign up
Membership Sign-Up
Information
Membership is required to register for classes.
In order to register for PIONEERS classes, Member families are required to submit a non-refundable Registration Fee. This Fee is dependent upon the number of students being registered in the program, and breaks down as follows: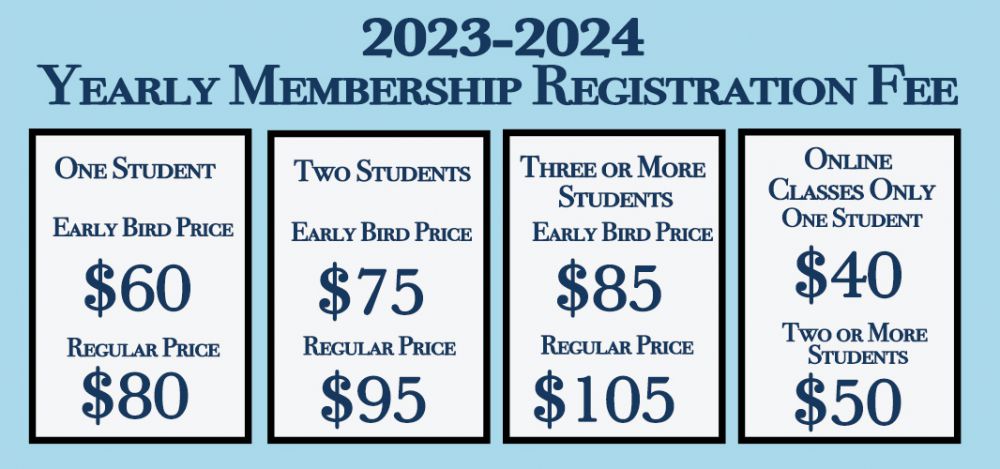 Each student also has a Supply Fee and Copy Fee in addition to the monthly cost of each class that they register for.
Fee Schedule:
NURSERY & PRESCHOOL - $25.00/student/semester Supply Fee
K/1st GRADE PROGRAM, YP PROGRAM - FEES
:
$25 student/semester Supply Fee + $5.00/year Copy Fee
6th-12th Grade - $10 Copy Fee, Lab Fees vary per class and can be found on class overviews
For more detailed Billing information please click HERE.
PIONEERS Tuition is due on or before the first of each month. Monthly statements are emailed via the accounting office.
We understand that sometimes a class is not the right fit for a student and schedule changes may need to be made. Please keep in mind, that it is PIONEERS policy that any changes to your student's schedule must be approved by the director. Add/Drop Processing Fees will be applied according to the time schedule that can be found below:
SIGN UP
Please complete this information form to begin the registration process.
Once completed, someone from our staff will contact you to continue your registration.