Mayborn Museum & Superhero Exhibit Field Trip
Date – Time
September 9, 2022 – 1:00 PM

Location
Mayborn Museum
One Bear Place
Waco, TX 76798 US

Additional Information

Mayborn Museum &
DC Superheroes Special Exhibit
Friday, September 9th
1 pm
Field Trip Includes:
Admissions to Natural & Cultural History Exhibits, the Discovery Center, Play Waco, the Historic Village, and the DC Superheroes special exhibit
Natural and Cultural History Exhibits:
Strecker's Cabinets of Curiosities
Many of the beloved artifacts from the Strecker Museum's collections, such as the tree cross-section and the humpback whale skull, are on display. The room is patterned after the style of early natural history museums. At that time, museum items were presented purely for visual entertainment and shock value and were rarely labeled.
Cretaceous Sea & Hall of Natural History
At various times during the Cretaceous period Waco and much of Texas were under a shallow sea. This explains the lack of dinosaur fossils and the abundance of marine reptile and invertebrate fossils in Central Texas. Explore discoveries from the Waco area, including a life-sized representation of a 28-foot-long Pliosaur. Experience the size of an ancient sea turtle (Protostega gigas) found outside of Gholson, Texas less than 20 miles from Waco. The monumental sea turtle is framed by dioramas featuring the varying landscapes in Texas as well as walk-in dioramas that include a Limestone Cave, a Texas Forest, and the Waco Mammoth Site Exhibit. Learn about four types of homes utilized by local people in the 19th century, including a Waco Indian grass house, a Norwegian rock house, a Comanche tipi, and an early log house.

Discovery Center:
Themed Discovery Rooms occupy two floors of one wing of the museum complex. Providing visitors with hands-on activities, these rooms are designed to invigorate young imaginations. Children and families will be thrilled to discover the hidden colors within light, to play a tune on the walk-on piano, and to walk beside dinosaurs in the Jurassic.
Light and Sound

Design Den

Bubbles

SpaceX

Energy

Back to the Jurassic Augmented Reality

Simple Machines

Pioneer

Tea Room

Backyard Ecology

The wait is over. Explore your own backyard! Fun role-playing opportunities abound, including fishing in the Brazos River, putting on a play, and grocery shopping for your family.
This exhibit is for kids ages 5 and under. Older siblings who can play gently are also welcome.
Closes daily from 12:30 pm - 1:00 pm for cleaning.

Historic Village:
The Governor Bill and Vara Daniel Historic Village was donated to Baylor University in 1985 by the Daniel family. The structures were relocated from Liberty, Texas to Baylor's campus in 1986, where they now reside along the banks of the Brazos River as part of the Mayborn Museum Complex. Today, the nine wood-frame buildings that comprise the Village provide a glimpse into the past, bringing to life a community in the 1890s.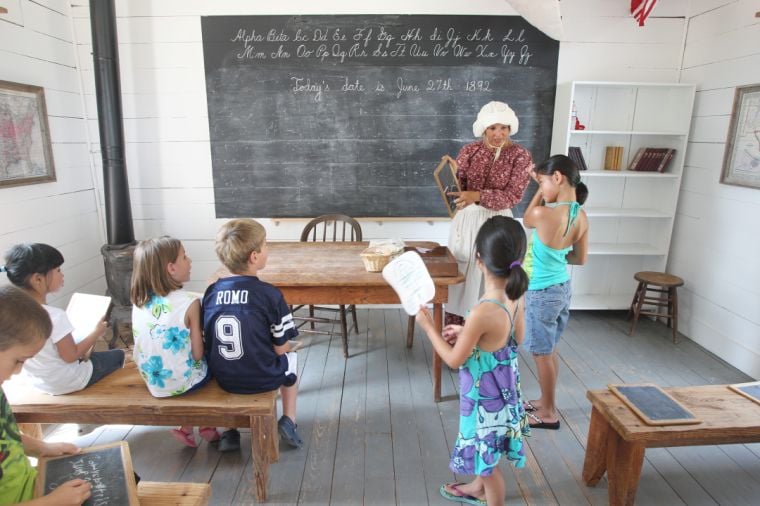 DC Super Heroes: Discover Your Superpowers!
On Display May 21 – September 11, 2022
SUPERMAN™, BATMAN™, and WONDER WOMAN™ need YOU to help them battle crime and fight for justice in DC SUPER HEROES: Discover Your Superpowers. In this traveling exhibit, guests can save the city, vie with villains, and work as a team to restore order across the DC UNIVERSE. In this immersive DC environment, you'll explore the HALL OF JUSTICE™, investigate robberies in GOTHAM CITY™, hone your Super Hero skills in the S.T.A.R. Labs, and more. Along the way you'll also meet CYBORG™, AQUAMAN™, GREEN LANTERN™, THE FLASH™, SUPERGIRL™, and BATGIRL™. Recruits are needed now! Will YOU answer the call?

Families are encouraged to grab their capes and go on an adventure as "reserve Super Heroes-in-training." Guests of all ages will develop new skills and learn the importance of teamwork at the Hall of Justice as they work together to solve problems and catch Super-Villains in a series of fast-paced challenges. JUSTICE LEAGUE and all related characters and elements © & ™ DC Comics. WB SHIELD: © & ™ WBEI. (s22)
$5 for Children (2 & up)
$8 for Adults
Under 2 - free

Currently, much of I-35 around the museum is under construction. Please plan ahead and know which exit you will need to take to access the museum. Follow TxDot on Twitter @TxDOTWaco for the most current updates on construction activities and lane closures. More information is available at www.baylor.edu/I35.
The picnic tables located outside are available free of charge. Please bring trash bags.
In case of inclement weather or extreme temperatures, please arrange for lunch off-site.