Deadline for Submitting Course Proposals for Next Year
Date
February 2, 2024
Location
Online

Additional Information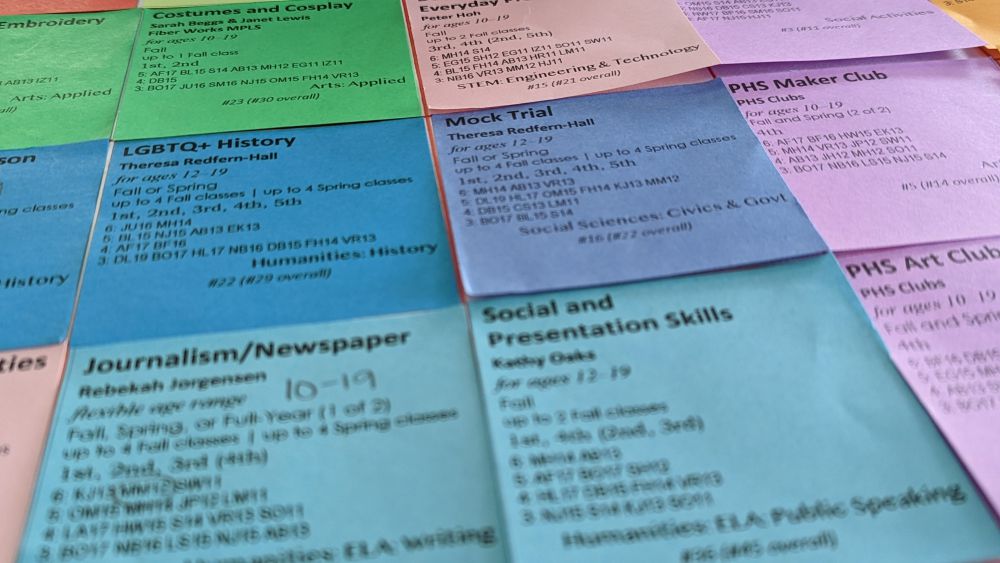 Date subject to change.
Course proposals can be submitted online using our co-op's Course Proposal Form.
Most proposals are made by current students and their parents, guardians, or caregivers and by current instructors, but proposals may also be made by prospective new instructors and by prospective new students and their parents, guardians, or caregivers.
Before submitting a course proposal, prospective new instructors should first learn more about teaching classes at Planet Homeschool by reading through our co-op's Information for Instructors. Current and returning instructors should also review the Information for Instructors prior to submitting proposals for the coming academic year as our co-op's policies evolve over time in response to changing circumstances and feedback from our co-op's members and instructors.
You may check out our co-op's Course History for examples and ideas.
Important Dates Instructor Info Course History

Image: Close up some of the Post-It Notes used to create the 2023-2024 course schedule including instructors' availability and schedule preferences. ©2023. Photo by Nic Rosenau. All rights reserved. Used with permission.