This Week at HSP
Homeschool Plus Announcements
January 16, 2023
The FENCE IS UP! The basketball backboard will be up soon!
The bathroom floors and toilets will be replaced within the next few weeks!
---
Early Registration will open in March. Be thinking about classes for next year!
Do you know any teachers or people with a talent for explaining subject very well?
We are searching for Chemistry, Algebra 1, Kindergarten/Preschool, Spanish, and several other subject areas. Please ask your friends to send a resume to the office.
---
Parent-Teacher Conferences are available in January. Please contact your teachers if you would like a parent meeting.
---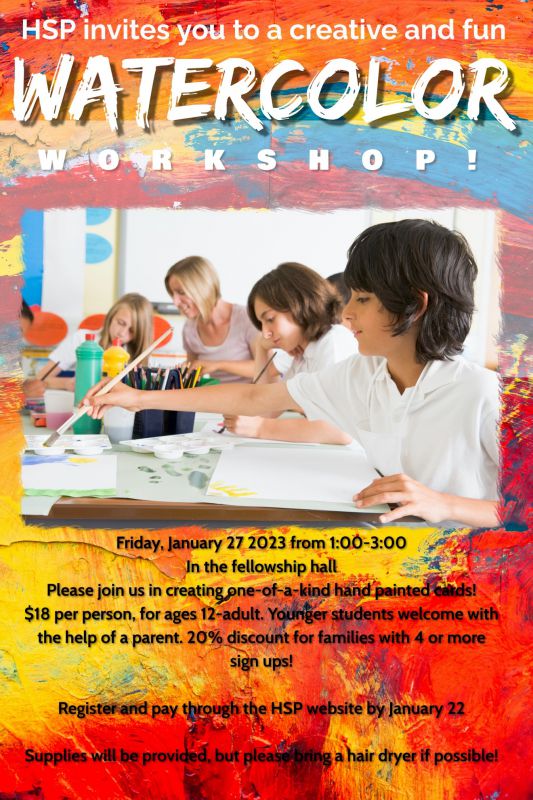 ---
Lunch Menu - order on the calendar. Chick-fil-A this week. Wendy's next week.
---
Seniors-please let the office know if you will or will not be participating in the graduation ceremony this year. If you are, please remember that the discount for you supplies ends at the end of January.
ORDER YOUR DIPLOMA & graduation supplies Homeschool Diploma.com 877-466-2563
Discounts: Order early for the best discount! (Click on the link "your Group discounts and perks" in the Welcome box):
https://www.homeschooldiploma.com/custom-graduate-package/?umeta_id=2927768&_wpnonce=9c499b90a5
2. Shipping: Orders ship directly to you. Most arrive within 2 weeks.
3. Another Discount: As a group member, enjoy the same discount on any other items from the Homeschool Diploma site when ordered with your package!
---
It is not too early to be thinking about summer and ART CAMP! This is always a special time that students really enjoy.
Bible Studio Art Honors classes have space available on all 3 days (except for 12 noon Wednesday),