IEW Writing Level B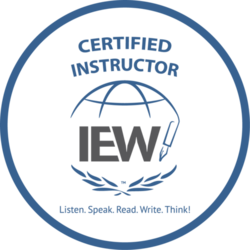 IEW Level B
Middle School and Early High School Writing
Teacher: Veronica Pedraza
Write From the Heart
"My heart is stirred by a noble theme as I recite my verses for the king; my tongue is the pen of a skillful writer." Psalm 45:1
Designed for students in middle school, or early high school if the student is a reluctant writer, who are concurrently completing grammar and literature exercises in their home studies, this lab does address some grammar issues along with style and structure elements, but is not a complete instruction course for mechanics and use.
Students will begin or continue skills in note-taking, key word outlining, narrative writing, summaries, reports and expository writing as developed through the IEW Teaching Structure and Style intensives and curriculum with the intention of encouraging critical thinking and personal expression. We will work on each practicum with consideration for each student's academic level. They will evaluate well-written articles through IEW source material, including Bible passages, prior to writing. Basic computing skills will be taught and used throughout, including Word document and the student dashboard on the CHSEL website.
IEW level B course material will be incorporated throughout the lab and the current level B student notebook is required. Those registered will have the opportunity to order this notebook with the group to avoid individual shipping costs. The purchased material is reproducible within a family.
See supply list below. (If a student has previously taken level B with me or elsewhere, repetition is recommended and the complete course will be repeated using source materials for Character Based, History and Bible writing passages published by IEW.)

If you are unsure if your child should repeat level B or continue to level C, please contact Veronica Pedraza for a writing evaluation. 409-549-2386
Compositions will be evaluated through a point system to help a child determine how to accomplish mastery and all written work is also evaluated for grammar and mechanics as well as structure for the benefit of the student and parent.
Grades will be kept so that, at the parent's discretion, they may be incorporated into each student's Language Arts grade.


NOTE: This lab will require students to work on assignments at home. They will also be required to make use of the online student dashboard. Parents are encouraged to reduce writing exercises at home to allow for the completion of the lab assignments. If students arrive unprepared repeatedly, we encourage parents and students to re-evaluate their participation in this lab.
Cost: $288/yr. Payable in 9 monthly payments of $32/mo.
Lighthouse Home School Support membership is required in order to register.
Teacher Bio: I am a lover of Jesus Christ and am passionate about learning about Him through Him and His creation. In teaching, I hope to share with students a desire for learning for His glory. The Bachelor of Science degree I hold has only a small impact upon my teaching, since I have learned most of what I really know through home teaching my own children over the past 28 years as I have learned how to meet their needs. My husband, Don, and I reside in Groves with the youngest three of our eight children. Each of the grown children value their home education. We love to encourage others who are considering homeschooling and those who are actively homeschooling. It is for this reason that we have established or helped establish a variety of homeschool groups or co-ops and continue to look for ways to encourage, edify and equip those who have taken on the task homeschooling. Grace and peace to you on your journey!!