Physical Science 7th- 10th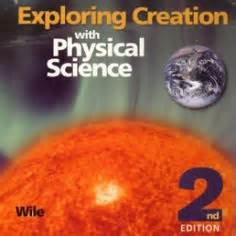 Physical Science is the study of the how things work together on Earth and throughout the universe. God put great care in creating our world and made things with purpose and order. In this lab we will examine such things as the atmosphere, different cycles, weather, forces and motion, electricity, atoms and molecules, waves, sound, and light. The scope and sequence will follow that of Apologia's Exploring Creation with Physical Science and we will employ experiments and demonstrations based upon those presented in that curriculum. While some alternative experiments will be used, the concepts presented will be the same. For this lab, the use of Apologia text is recommended, but not required, although student's should be using a physical science text in their home studies to be able to follow the concepts presented in this lab.
Instructor: Kerrie Frederick
Text book: Exploring Creation with Physical Science 2nd edition by Wile
ISBN: 978-1-932012-77-4
Supplies: Safety glasses or goggles
: Composition Notebook
: Pencil
Grading:
Notebook completion 70%
Quizzes 10%
Tests 20%
Lab Time 9:00 AM Lab Cost: $225/yr. payalbe $25/mo.
| | | |
| --- | --- | --- |
| Week | Readings | Experiment |
| Module 1: The Basics | Pages 1-11 | 1.1 |
| | Pages 12-17 | 1.2 and 1.3 |
| Module 2: Air | Pages 25-30 | 2.1 and 2.2 |
| | Pages 30-44 | 2.3 |
| Module 3: The Atmosphere | Pages 55-66 | 3.1 |
| | Pages 66-73 | 3.2 |
| Module 4: The Wonder of Water | Pages 81-90 | 4.1 and 4.2 and 4.3 |
| | Pages 93-100 | 4.4 and 4.5 and 4.6 |
| Module 5: The Hydrosphere | Pages 105-116 | 5.1 and 5.2 |
| | Pages 120-126 | 5.3 |
| Module 6: Earth and the Lithosphere | Pages 131-136 | 6.1 and 6.2 |
| | Pages 138-151 | 6.3 and 6.4 |
| Module 7: Factors That Affect the Earth's Weather | Pages 157-172 | 7.1 |
| Module 8: Weather and Its Prediction | Pages 181-186 | 8.1 |
| | Pages 190-199 | 8.2 |
| Module 9: An Introduction to the Physics of Motion | Pages 203-209 | 9.1 |
| | Pages 212-221 | 9.2 and 9.3 |
| Module 10: Newton's Laws | Pages 229-235 | 10.1 and 10.2 |
| | Pages 237-247 | 10.3 and 10.4 |
| Module 11: The Forces in Creation Part 1 | Pages 255-263 | 11.1 |
| | Pages 265-278 | 11.2 and 11.3 |
| Module 12: The Forces in Creation Part 2 | Pages 285-291 | 12.1 |
| | Pages 295-306 | 12.2 and 12.3 |
| Module 13: The Forces in Creation Part 3 | Pages 313-320 | Periodic Table Battle |
| | Pages 320-334 | Periodic Table Battle |
| | Study Periodic Table | Periodic Table Quiz |
| Module 14: Waves and Sound | Pages 341-351 | 14.1 and 14.2 |
| | Pages 353-361 | 14.3 and 14.4 and 14.5 |
| Module 15: Light | Pages 367-374 | 15.1 and 15.2 |
| | Pages 377-389 | 15.3 and 15.4 and 15.5 |
| Module 16: An Introduction to Astrophysics | Pages 397-418 | 16.1 |