Elements of Art K4-K5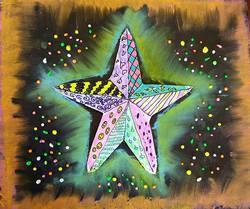 My name is Carissa Parr and I have been a homeschooling parent for 13 years. I have been teaching art for several years in the community, and I'm excited and thankful to be able to teach at CHSEL.
This year, our younger set in K4-K5 will be learning the 7 elements of art (line, color, shape, texture, form, value, space) through painting, printing, drawing, use of chalk, 3D forms, and clay sculpture. This will be fast paced, full of movement, lost of mess, and a great deal of fun! No supplies need to be purchased for this class as your supply fee will cover everything. Aprons will be provided, but you may want to have the kids bring an old shirt to keep things extra clean.
K4-K5 Art
1st Semester
Painted Paper Stock-Up
Dot Art – Read from book The Dot – International Dot Day
Jungle Paper Sculptures
Tiger Draw-Along & Butterflies
Monet Water Lillies
Indian Elephants – Read from book One Grain of Rice
Seahorses and Mermaids – Eric Carle inspired collages or Read Artist Who Painted a Blue Horse
White Dog Painting – Read from book Arlo Needs Glasses
Pumpkins at Night
Shaving Cream Prints – Peacocks maybe 2 weeks
Winter Snowman Collage
First Semester Make-up/Finishing Touches and/or Free Draw and Paint
2nd Semester
Watercolor Resist with Oil Pastel
James Rizzi Watercolor Birds
Mad Scientist Beakers with Watercolors
3D Chalk or Oil Pastel Bubbles
Royal Self Portraits
Finger Painting and Printing – Van Gogh inspired almond trees
Mixed Media Sunflowers
Value Jellyfish
Peter Anton Candy Forms
April and May will be focused on clay – sculpting, painting, and glazing
Second Semester Make-up/Finishing Touches and/or Free Draw and Paint
Lab Fee: $180 Per Year payable in full, or 9 monthly payments of $20.
Supply Fee: $10