How to Homeschool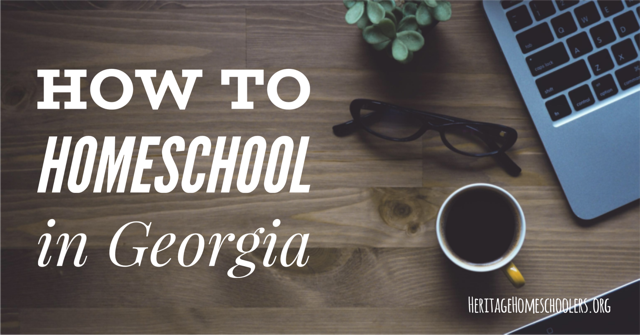 Curious about homeschooling but not sure how to get started?
Ready to dive into the wonderful world of home education but need some direction?
Feeling stressed and overwhelmed after late-night "homeschooling" Google searches?
We'd love to help!
Check out our A Day in the Life: Homeschool Edition videos to find out how some of our moms approach homeschooling. Please right-click the link above to open in a new tab or copy and paste this url: https://bit.ly/3tMKYkc
These links will get you started with how to homeschool in Georgia:
STEP 1 - Learn the laws and requirements for homeschooling in Georgia
Summary of

Georgia Homeschooling Laws

Declaration of Intent

to Homeschool - Must be completed by September 1st or within 30 days of the start of your homeschool program. Be sure to save and print a copy to carry with you for discounts and admission to homeschool deals and activities.
STEP 2: Consider your homeschooling "style"
Once you have an idea of your preferred STYLE of homeschooling (or at least what you THINK it is and what you're willing to try for the first year until you know for sure), you can narrow down the curriculum options and closely examine the ones that best align with that style.
STEP 3: Learn the lingo
STEP 4: Plan to attend a local homeschooling conference
Attending the breakout sessions at these conferences will likely be quite helpful for you, but even just going to the vendor expo is extremely informative. A TON of vendors with homeschooling materials have booths where you can actually see/touch things and ask questions before you buy. You can purchase on-site (often with a discount or even just to avoid the shipping fees), or go back home and order online after you've had more time to think about the direction you'd like to take.
STEP 5: Evaluate various curriculum options
Read

homeschool curriculum reviews

: This website is the "go to" resource for reading comprehensive reviews on all sorts of available homeschool curriculum. So if you read about something and want to learn more, or you want to search for new options, you can search on this site.
Visit the

Homeschool Hangout Bookstore

in Alpharetta, GA: This is a local one-stop-shop bookstore with tons of curriculum, classes, and free expert curriculum advice.
Lists of popular curricula:
STEP 6: Determine if you need or want professional help
If you've read through these materials and still have questions, you may want to consider working with a professional homeschooling consultant. Here are a couple of options:
Amber Johnston

,

the leader of Heritage Homeschoolers, offers homeschool consultations for new and experienced homeschoolers. Great for elementary and middle school. Amber has also written an inspiring book about culturally rich learning: A PLACE TO BELONG.
STEP 7: Get Connected!
If you're looking for community, we'd love to have you! Heritage Homeschoolers is a local in-person support group for black homeschool students and their families in Cobb County, Georgia. We strive to create a sense of inclusive community, belonging, and relationship for black homeschooled children, their parents/caretakers, and other homeschool families who share this vision. Our group meets regularly for enrichment activities, field trips, play dates, family events, Mom's Nights Out, and more. New member registration is available in August and January of each year.
Residency is not a requirement for membership, but if you live too far outside of Cobb County to build community within Heritage, there may be a support group in your area. Consider joining the "Black Homeschoolers of Atlanta" FB page for further networking opportunities. Search for a post on "diverse homeschool support group" and you will find a list of other options for groups in the area. Note: You will have the join the FB group before being able to view the post.

In addition to support groups, there is a plethora of co-ops and homeschooling hybrid schools across the city and suburbs that may meet your need for community in addition to providing academic support in one or many subjects. Become an official member of Heritage Homeschoolers for a comprehensive list of options and other "in the know" information on homeschooling in our area.
We hope that this guide has given you a jumpstart on homeschooling, and we look forward to welcoming you into the homeschooling community!