Homecoming Dance
Add to Your Calendar:
11/04/2022 18:30
11/04/2022 21:30
America/Los_Angeles
Homecoming Dance
Homecoming Dance
South Bay Faith Academy
South Bay Faith Academy
[email protected]
false
MM/DD/YYYY
aUinrLWZczwYavqgBmQP30959
Date – Time
Friday, November 4th – 6:30 PM - 9:30 PM

Location
South Bay Faith Academy
101 S. Pacific Coast Highway
Redondo Beach, CA 90277 US
Fellowship Hall
Additional Information
SBFA Student Activity Permission Form

- Parents, please fill out and sign this form. Students, please turn in the form when you check in at the dance.
SBFA Highschool Homecoming Dance
Join us November 4th 6:30-9:30 PM
Location: 101 S Pacific Coast Highway Redondo Beach 90277.
The dance will be held in the fellowship hall.
$15 sign-up fee for SBFA students. For students who are not a part of SBFA the fee will be $20.
Payment for this event is via PayPal only.
Snacks and refreshments will be supplied.*
Dress Code: Men-Hawaiian button down shirts, jeans, shorts, or slacks.
Dress Code: Women- Casual dresses below finger tips, Hawaiian shirts, shorts below finger tips, or jeans.
(Ripped jeans are not permitted)
For any questions concerning sign-ups please contact (562)338-1505
For any additional questions please contact (310)413-2967
*Dinner will not be provided
PLEASE REGISTER BELOW. When registering, please leave the participating check box checked.
SBFA Students:

Please

log in

to your family's account

prior

to registering for this event.

NON-SBFA Students:

Please fill in the parent's contact information in the General Signup Information section.
Enter the highschool student's information in the Attendee Information section.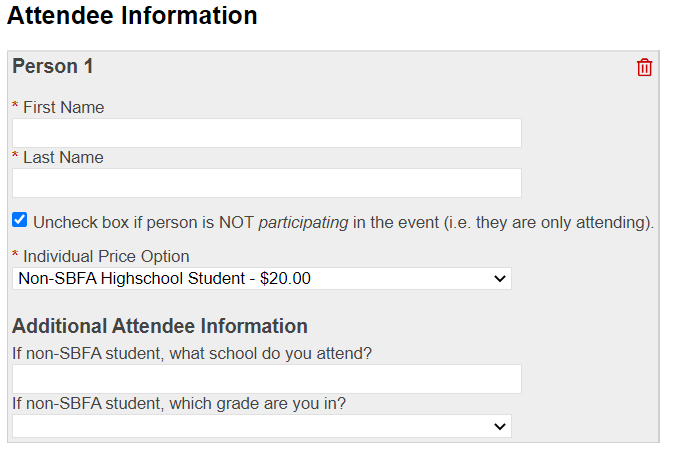 If you need to add another student, use the Add Attendee button (green square with white cross).

After you submit your signup, the confirmation page will have a PAY NOW button. Click/tap that button to pay via PayPal. You will not be able to go back and pay later.
If you miss it, you will need to sign up again and contact the website administrator (

[email protected]

) to delete your old signup.
SBFA Student Activity Permission Form

Signups