Public Business Directory
Browse Alphabetically ABCDEFGHIJKLMNOPQRSTUVWXYZAll
A-1 Welding
Submitted by: Heuermann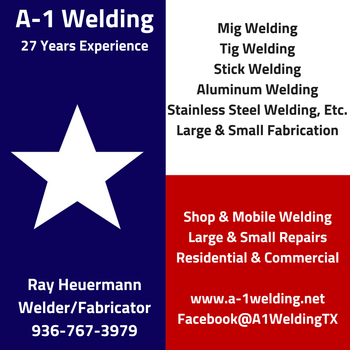 We at A-1 Welding are your #1 solution for all your Welding & Fabricating Services in the Conroe, Willis, Huntsville, Coldsprings, and surrounding areas. At A-1 Welding, We provide free estimates to both residential and commercial clients. Whether you need something repaired or fabricated from scratch, A-1 Welding services can get the job done for you. With 27 years experience in the welding and fabricating industry being a certified welder, A-1 Welding has you covered. We strive to accommodate requests and offer the best customer service possible with reasonable prices.
We at A-1 Welding, are committed to helping you with your Welding & Fabricating needs.
Our Services Include, but not limited to the following:
Shop Welding-Mobile Welding-Mig Welding-Tig Welding-Stainless Steel Welding-Aluminum Welding-Hard Facing-Fabrication-Structural-Trailer Repairs-Gate Repairs-Fence Repairs-Pipe Welding-Ornamental Welding-Build Up-BBQ Pit Repairs-Fire Pit Repairs Restoration-Metal Fabrication Services-Metal Cutting Services-Tractor Accessories Carport Repairs-Tractor Repair Services-Bull Dozer Repair-Metal Truck Accessories-Aluminum Boat Repairs-Aluminum Boat Motor Repairs-Metal Repair Services Farm Equipment Repairs, Etc.
We also sell custom built Firepits & Grills
Brochure with prices available upon request
Large & Small Jobs, We Do Them All
Give us a call today for all your Welding & Fabricating needs at 936-767-3979
We look forward to working with you!!
Contact: 4347 FM 3081, Willis, TEXAS 77378 | Phone: 936-767-3979 | Cell: 936-499-8154
Astrolabe Financial
Submitted by: Jackson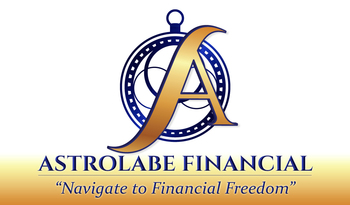 I am a Dave Ramsey Preferred Coach. We will help you: (1) create a budget and adjust it, so it works, (2) prepare for unforeseen financial emergencies, and (3) decrease your bills by eliminating debt.
Contact: 3600 FM 1488, Suite 120-175, Conroe, TX 77384 | Phone: 936-777-2530