Library Hours & Donation Criteria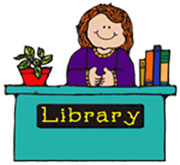 Library hours throughout the school year:
The SHARE libraries are open every Tuesday and Thursday when Homelink is in session. Normally the Homelink building is open from 8:00am - 5:00pm. Both libraries are on the top floor of the Homelink building (on the right hand side as you enter the top floor). This building is part of the St. Andrew Catholic Church complex, 309 Hoffmeister, St. Louis, MO 63125
ITEMS CHECKED OUT IN THE CURRICULUM LIBRARY MAY BE USED FOR AN ENTIRE SCHOOL YEAR.
---
OTHER NOTES ABOUT OUR SHARE LIBRARY SYSTEM:
*The SHARE Lending Library is a ministry of the SHARE homeschool group, hoping to provide home schooling families in the St. Louis metro area with materials to assist them on their home school journey.

*You must be a member of SHARE to check out materials from the library. Library cards are $1.00 and do not expire as long as your SHARE membership is current. Keytags are available for easy check out.

*All proceeds from the library go to support and maintain this valuable resource. All librarians are volunteers. Be sure to thank them for the time and energy they invest.

*Location: Top floor Homelink building. (Homelink is at St. Andrew's Catholic Church, 309 Hoffmeister, St. Louis, MO 63125 Go around the back to the huge parking lot and it is the 3rd building from the corner of Hoffmeister & Military.)
*Librarians available to help you locate materials, pick up holds, get or renew library cards, purchase or rent curriculum for Homelink classes, etc.
*New fine schedule. Only 2 cents per day, and a 1 week grace period. Classical materials have a one month check out; curriculum has a one year check out. You may renew materials as often as needed without penalty, unless a hold has been placed on an item by another patron.
*You can pick up your reading log for the monthly reading program or download it from the pop-out below this one.
*You can pick up your prize if you were a winner in a monthly reading program.
*We have quiet space available if you just need a place to sit and do homework. Free wifi, so we are like a Starbucks without the coffee.
*There are a number of new items on the FREE cart and on the SALE shelf. Curriculum and classical library materials. Come and browse.
*We are accepting donations of quality books and curriculum. Please make sure the curriculum is current and usable (i.e., no geography books from 20 years ago, or workbooks all filled out with writing).
---
Criteria for Donating Items to the SHARE Library
1. No encyclopedias, bibles, or dictionaries.
2. No written-in workbooks.
3. No textbook curriculum more than 10 years old. Other types of curriculum such as those used in various teaching approaches such as The Classical Approach, The Principle Approach, The Living Books and Life Experiences Approach, or the Unit Study Approach are great.
4. Gently worn textbooks. No heavily highlighted books.
5. Fiction is great. There is no limit on the "age" of the fiction; in fact, some of the older stories are the better ones!
6. Please do not donate back items that you have bought or received free from the SHARE Library. (We passed them on because our space is limited.)