REMIND--are you on it?
Make sure you are on the Homelink Text Line!
Text this message as shown to the number as shown.
ORIENTATION DAY/NIGHT COMING SOON!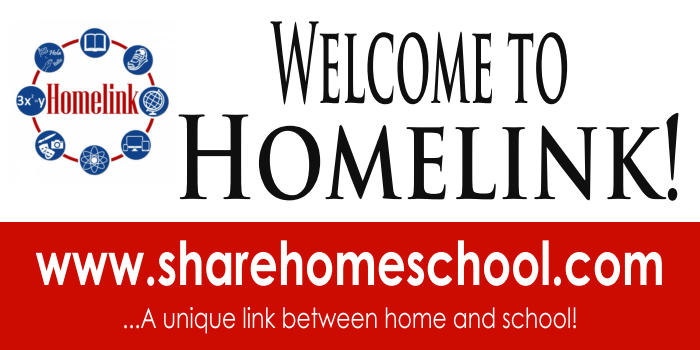 Watch this space for upcoming information about our
Homelink Orientation Day/Night

August 27, 2019
Welcome to our

WELCOME TO OUR HOMELINK PAGE!
On this page are some topics that will hopefully answer any questions you may have about Homelink.
If you cannot find your answers, please email
Cathy Mullins at Ekcjmullins@gmail.com









PRINTABLE SCHEDULE
HOMELINK CLASS PROGRESSION
YES! YOU CAN MAKE MONTHLY PAYMENTS!
Did you know that you can make MONTHLY PAYMENTS on your class tuition, INTEREST FREE? It's true!
Please remember that the prices you see are for a FULL year and NOT a semester and they include both copy fees and lab fees.

ALSO, OUR WONDERFUL TEACHERS UNDERSTAND HOW PAYING FOR EXTRA CLASSES IS TIGHT ON A HOMESCHOOL FAMILY'S BUDGET. THEREFORE, THEY ARE WILLING TO TAKE MONTHLY PAYMENTS AND TO DO IT INTEREST FREE!

NOTE: 1/2 of the tuition must be paid at the end of the first semester and other half by the end of April. Of course, early pay-off is so appreciated!
OUR RESIDENT TUTOR!
BECCA HUBBARD HAS LOTS OF EXPERIENCE AND CAN BE FOUND AT HOMELINK!
This is Becca Hubbard's 31st year of teaching and the ninth year she has offered elementary enrichment classes to the St. Louis homeschool community. Becca's degree is in Elementary Education from the University of Illinois, and her teaching experience has ranged from pre-K through adult education in public school, Christian school, Sylvan Learning Centers, and private tutoring. Becca has been the moderator for the St. Louis Area Homeschool Geography Bee for the past seven years and is married to long-time Homeschool P.E. teacher Cort Hubbard. Becca can be reached at: cbhubbard@htc.net
Artsonia!
PLEASE VISIT OUR HOMELINK LEARNING CENTER ART GALLERY ON.......
This year Lisa Bader, has been posting some of her student's artwork on Artsonia, an online student art museum. All parents have given their permission for their children's art to be viewed. Take a look and see for yourself what a wonderful job these students have done! Feel free to make comments too!
Former Homelink Student of the Week
CALE BOWMAN and KIRA GRAVES!
Cale Bowman deserves to be recognized as Star Student of the Week in the area of Science. Science is about observing closely, paying attention to details and looking for patterns. It is also about remaining open-minded to new ways of looking at information which you may already know. This can sometimes lead to important discoveries. Cale practices these things. He inquires, he thinks, and he reflects on information. He also knows that sometimes explanations for how things work are not always easy or quick to obtain. Cale has the patience to hang in there and continue thinking about a problem. Recently Cale asked if he could bring in his snap-circuit kit to class since we were doing experiments with electricity. He did an excellent job demonstrating circuits. It's a real benefit to have Cale in the class. ~Jeff Bader, Homelink Science Teacher

Kira Graves is my choice for Star Student in the area of Art. She not only has the talent, but she has the focus. Kira applies what she is learning in class to her work. She has the patience to learn sequential drawing principles and the more careful drafting side of the arts in combination with the ability to think outside the box--to use creative thinking to plan and design her ideas. Growing in self-discipline as an artist doesn't stifle your creativity; rather, it enhances it. Kira also works on drawings in her free-time outside of class and is not afraid to share this work in class which can serve as inspiration for others. ~Jeff Bader, Homelink Art Teacher
Former Homelink Student of the Week
XAVIER TESSEREAU!
Xavier Tessereau is a student who makes going above and beyond the call of duty with his schoolwork a way of life! He both listens and communicates clearly and shows respect to students and adults alike. He follows directions AND adds great creative ideas to distinguish his projects both in art and language arts. He has consistently won awards at our SHARE Art Fair and earned 2749 points for his fall language arts total when only 1200 were required for an A!

I'm often trying to get students to believe in their ideas enough to follow through on the work required to bring them to completion, and Xavier makes a huge effort in this direction, sometimes doing extra work outside of class time!

~Mrs. Lisa Bader, Art Teacher
Former Homelink Student of the Week
Gideon Fugman!
Gideon Fugman is my student of the week. He is always willing to volunteer to do improvisations or any other project we have going on. He is respectful to me and to other students. He is not only talented, but hard working.
~Amanda Oliver, Drama Teacher
Former Homelink Student of the Week
Dawson Maxey
My choice for Star Student of the Week is
Dawson Maxey.

Dawson has exemplified enthusiasm and diligence
in his participation, homework and projects in my Applied Math class. He's a delight to have as a student and an outstanding example of a scholar.
~Mrs. Arryn Groom, Applied Math teacher


Former Homelink Student of the Week
Jada and Sharlotte Jacobs
My star students this week are Jada and Sharlotte Jacobs. In Introduction to Composition and Literature they put in the extra work to complete their assignments thoroughly. Comprehension questions are well-answered. Vocabulary words are defined with thorough dictionary definitions, then used in interesting sentences that make the meaning of the word clear. In their compositions they have each demonstrated their creative side but have also chosen research assignments throughout the year. Assignments are rarely ever late. The girls are respectful, helpful, and great participants in class discussions. ~ Mrs. Becca Hubbard, English teacher