Homeschool Bowling 2018-19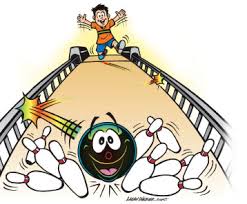 DETAILS We lost our location--they closed! Stay tuned for details as we hope to begin this in October.
WHAT? 2 hours of bowling
WHERE?
WHEN? Last Friday of each month thru May

TIME? 2:00 – 4:00 pm (Bowlers can fit as many games in as possible in two hours!)
PRICE? $5.00 per bowler, shoes included!
WHO? All ages! Little ones may bowl with bumpers and a ramp, but moms might need to help.
HOW ? Our plan is to group children of the same age and/or friends on the same lanes. We want this to be a great way for the children to meet others and make friends. In order to do this, we will need you to sign up. Sign up will go through the SHARE calendar and you have to sign up for each bowling date separately.
*We have been given 10 lanes. This means that we can accommodate 50 bowlers at 5 bowlers per lane.
Note: For some reason, this event was not well attended last year. Years ago we used to run over 100 kids participating, so I thought it might be good to start it up again. But I guess that was in the day when there were not many social gathering times for homeschoolers. Now there are many choices. But no matter how many show up, it will be fun for all! Come once or come every month--we will be glad to see you!