HAYRIDE!
Add to Your Calendar:
10/14/2022 18:00
10/14/2022 19:00
America/Chicago
HAYRIDE!
HAYRIDE!
Minnie Ha-Ha Park
SHARE
ekcjmullins@gmail.com
false
MM/DD/YYYY
aUinrLWZczwYavqgBmQP30959
Date – Time
Friday, October 14, 2022 – 6:00 PM

Location
Minnie Ha-Ha Park
Old Gravois Road and Rahning Rd
Sunset Hills, MO 63127 US

Additional Information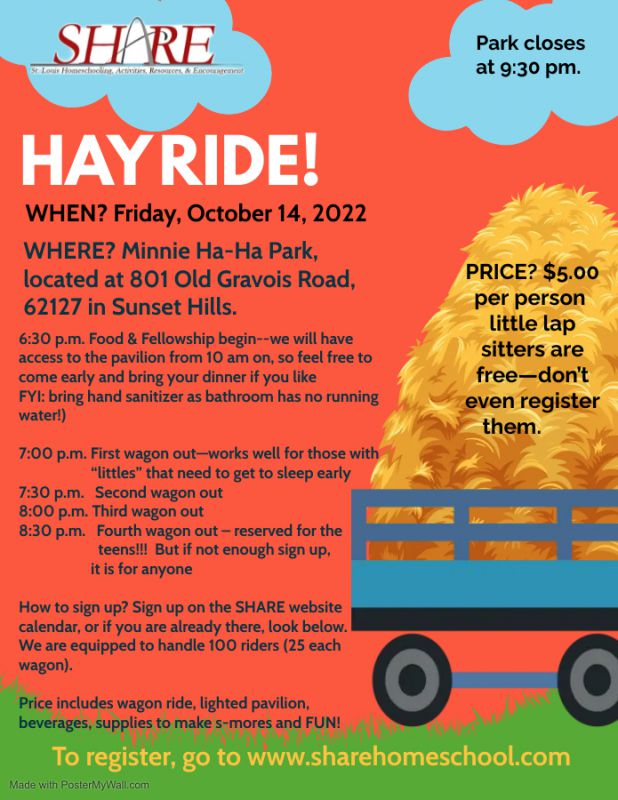 More detail.....
Y'all are invited!
Get ready for a fun evening of hayrides, s'mores, & great fellowship at Minnie Ha-Ha Park.
Many, many thanks to Jil Yarasheski for setting up this event….AGAIN!
Minnie Ha-Ha Park is situated near the bridge at Gravois and Old Gravois roads. The city purchased the land in 2000, and residents suggested that it be named after Minnie Ha-Ha, an Indian chief who ran the area along the Meramec long ago. Our pavilion is at the end of the park with its own parking area, playground, walking trails (before dark) and fire pit for roasting our marshmallows.
When? Friday, October 14, 2022
Where? Minnie Ha-Ha Park, located at 801 Old Gravois Road, 62127 in Sunset Hills.
Directions? Minnie Ha-Ha is located on Old Gravois Road just before the newly renovated Gravois Bridge.
You can get there via Old Gravois Road or Rahning Rd from Gravois (Hwy 30). If traveling west on 30, turn left (south) on Rahning, turn right onto Old Gravois and travel till you see the entrance to Minnie Ha-ha—it is on your right. If you go over the Gravois Bridge and see the back entrance of Sears & Wal-Mart in Gravois Bluffs, you've gone too far!
Once inside the park, our pavilion is SHELTER "E" and is the furthest one on the lane…go all the way to the end—you can't miss us! It is next to the playground!
The scoop?
6:00 p.m. Food & Fellowship begin--we will have access to the pavilion from 10 am on, so feel free to come early and bring your dinner if you like (FYI: bring hand sanitizer as bathroom has no running water!) For this event, SHARE will provide water, hot chocolate, ingredients to make s'mores and the wagon rides!

7:00 p.m. First wagon out—works well for those with "littles" that need to get to sleep early
7:30 p.m. Second wagon out
8:00 p.m. Third wagon out
8:30 p.m. Fourth wagon out – Park closes at 9:30 p.m.

We are equipped to handle 100 riders (25 each wagon). Price includes wagon ride, lighted pavilion, beverages and supplies to make s-mores.

How to sign up? Sign up on the SHARE website calendar, or if you are already there, look below.

Price? $5.00 per person (little lap sitters are free—don't even register them, (unless they are eating a ton of s-mores! Tee-hee!)

Important! If anyone has firewood that they can bring and start the fire....
it would be soooooooooooooooo appreciated!!!!

Got questions? Just holler, and please pray for a not-too-cold and not-too-hot kind of evening!
Signups
Signup is currently closed.
Email the Event Coordinator – Ekcjmullins@gmail.com