Anheuser Busch InBev Brewery Tour
Add to Your Calendar:
10/21/2022 10:45
10/21/2022 11:45
America/Chicago
Anheuser Busch InBev Brewery Tour
Anheuser Busch InBev Brewery Tour
Anheuser Busch Brewery
SHARE
ekcjmullins@gmail.com
false
MM/DD/YYYY
aUinrLWZczwYavqgBmQP30959
Date – Time
Friday, October 21, 2022 – 10:45 AM

Location
Anheuser Busch Brewery
1200 Lynch Street
St. Louis, MO 63118 US

Additional Information
This field trip is now closed!
Those who have already signed up will be going, but
we had to confirm numbers with the brewery today and were
getting very little response to the email. Sorry!!
This little field trip will make a great addition to anyone studying Germany, historic places in St. Louis, or the brewing process.
Please note some very IMPORTANT RULES WE MUST FOLLOW:
#1. All of the guests are required to wear flat, closed-toe shoes. Tennis shoes are strongly recommended for your comfort due to the
amount of walking you will do while on the tour. Sandals, high heels, and soft-soled resin shoes, such as "Crocs" are not permitted
on the tour.
#2 We need to arrive 15 minutes before our tour (10:45 a.m.) for check-in OR they may cancel the tour with NO REFUND.
#3 There is some construction that may affect your normal route to the Brewery. If you are traveling Northbound on I-55, please use this
alternate route:
Traveling northbound I-55, take exit 206A to Potomac Street, take a left on Potomac
Then at the second stop sign, take a right onto Broadway
You'll see the Brewery on your left. Next, take a left onto Lynch Stree, where signs will lead you to the Tours Center Parking Lot at
1200 Lynch Street
Also, please note that packaging lines may not run on certain days.
We have reserved 40 spots: 15 Adults and 25 Minors
---
Opened in the 1850's, the Brewery here in St. Louis is the flagship brewery, the headquarters of Anheuser Busch. The brewery is remarkable for the historic structure, from the gargoyles on the outside to the many beautiful interior features (Romanesque style). On the tour we will see many characteristics of this historic building and learn more background information, observe production of product, watch the filling line process, AND we will get to visit the famous Clydesdale horses at their stable and exercise/training field.
The complex is included on The National Register of Historic Places, is a City Landmark and is a National Historic Landmark.
The Brewery is also known for shutting down regular production to produce bottled water for emergency use as floods, hurricanes, power outages!
Note: The adults (over 21) will be offered a sample of product during our visit, so please feel free to accept or refuse. The goal of visiting the processing and bottling plant that is foremost for us concerns focusing on the process and NOT the product.
Please note: Mary Murphy has looked for a long time for a soda bottling plant and cannot locate any locally. The St. Louis Brewery is the only one found that gives tours.
---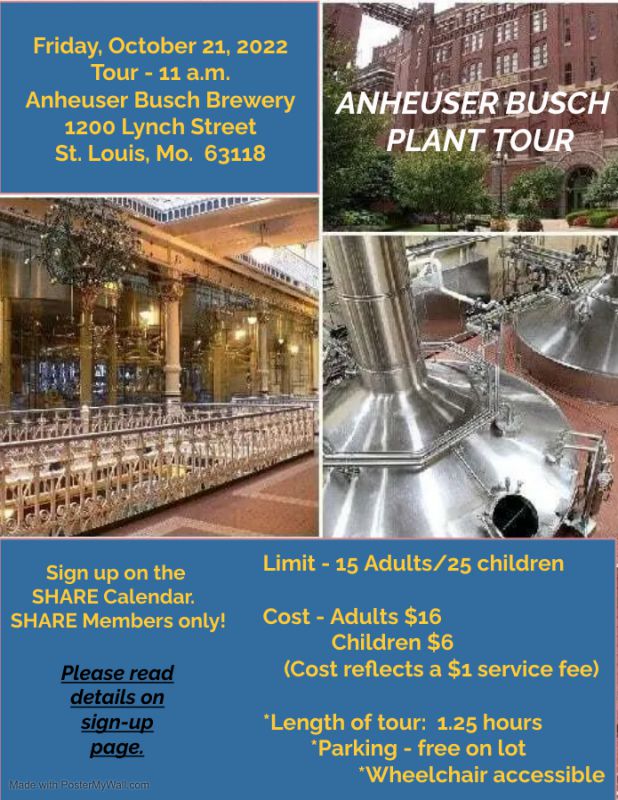 To clarify the pricing....
Adults:

Guests 21 and over @ $16
Minors: Guests 4 to 20 years old @ $6
Children: 3 years and under @ Free
Sign-up buttom is below.
Signups
Signup is currently closed.
Email the Event Coordinator – Ekcjmullins@gmail.com, djmurphy5@sbcglobal.net