Homeschooling in CT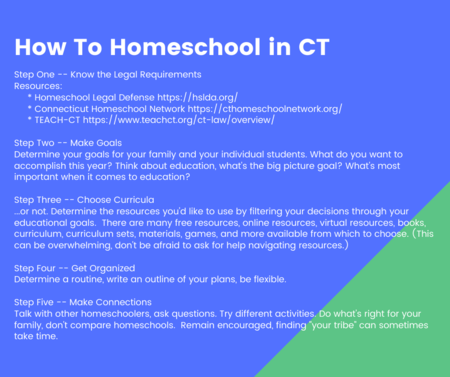 Step One -- Know the Legal Requirements
If your child has never attended public school:
* and is under age 7 there is no interaction needed with the school
* and is age 7 or older by law there is no required interaction but the suggested procedure according to the statute is to file a Notice of Intent
If your child was attending public school in the last year:
* you must formally withdraw them from the school in writing
Duties of Parents:
* "All parents and those who have the care of children shall bring them up in some lawful and honest employment and instruct them or cause them to be instructed in reading, writing, spelling, English grammar, geography, arithmetic, and United States history and in citizenship, including a study of the town, state, and federal governments."
Resources (please refer to these websites for the most up to date information):
Step Two -- Make Goals
Determine your goals for your family and your individual students. What do you want to accomplish this year? Think about education, what's the big picture goal? When your children leave home what will you want to have accomplished through home education? What's most important when it comes to education? These goals can include not only academic goals but character goals and habits.
Step Three -- Choose Curricula
...or not. Determine the resources you'd like to use by filtering your decisions through your educational goals. There are many free resources, online resources, virtual resources, books, curriculum, curriculum sets, materials, games, and more available from which to choose.
Make a list of subjects/topics you plan to teach. Decide which resources will fit best to accomplish teaching those subjects. Know that it's okay if you don't use everything included in the resource/curriculum. Be flexible, it's okay to switch if something isn't working.
This can be overwhelming, don't be afraid to ask for help navigating resources.
Step Four -- Get Organized
Determine a routine, write an outline of your plans, be flexible.
Keeping a routine helps to keep your home education goals on track, but if something isn't working don't be afraid to adjust. Find your favorite way to plan out your year. Some prefer to plan with an online calendar, some with paper calendar, some choose to simply log their accomplishments each week.
Remember that home education is parent directed and does not necessarily equate to school at home on a 9-3 schedule. In general, young children may spend 1-2 hours of instruction per day, older elementary may spend 2-4 hours of instruction per day, middle and high school students may spend up to 4-6 hours. This is just a guideline and your educational goals will dictate the amount of time spent on instructional/academic work.
Step Five -- Make Connections
Talk with other homeschoolers, ask questions. Try different activities. Do what's right for your family, don't compare homeschools. Remain encouraged, finding "your tribe" can sometimes take time.
There are many avenues of finding homeschoolers with whom to speak. Facebook has several homeschool groups to allow for easy connection. There are statewide and town/surrounding area fb groups. Our community is available if you just want to chat and ask a few questions.
There are so many opportunities for homeschool families. Your family can choose to socially engage by meeting up with other homeschoolers for various things or join a co-op for enrichment or academic purposes. There are several homeschool programs offered by small businesses and other non-profits like homeschool karate, art, music, or academic classes etc.