HEART Homeschool Expo 2019
When: Monday, August 5, 2019

Where: Kingwood Community Center

Time: 5:00 - 8:00pm

Cost: FREE

HEART's Annual Homeschool Expo is a great time to learn about all of the extra-curricular activities, classes, and opportunities that are available for your homeschooled children.
If you are new to the area or new to homeschooling, this is the perfect chance to come meet the group and see what we are all about. Veteran homeschoolers will be there to answer any questions you may have!

Bring the kids to enjoy the games run by CHATA volunteers and snacks!
Attendance is open to both those just thinking about homeschooling and those families already homeschooling.
Homeschool veteran? Come fellowship with other homeschoolers in our community and offer support to those just embarking on the homeschooling journey!
---
Trail Life USA will be

offering snacks,

drinks, and

Chick-fil-A for sale!

CHATA will host games

for kids like:

Minute to Win It,

Twister,

Ring Toss,

Musical Chairs,

and Bean Bag Toss!

Exhibitors will offer

drawings for FREE

items and classes

for existing and new

HEART members!

Scroll down to see

the exhibitor list!
---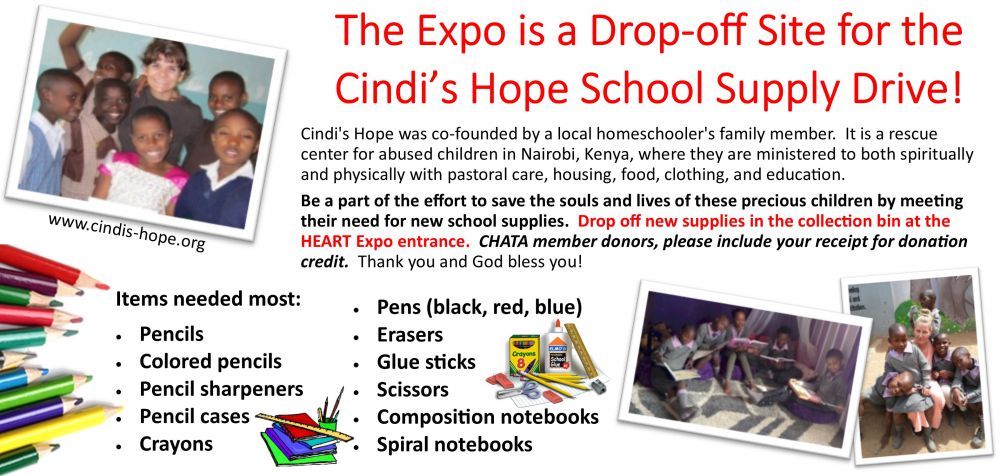 ---
Expo Exhibitors Include But Are Not Limited To:
American Heritage Girl/Trail Life USA

Be Kind

BJU Press Homeschool/HomeWorks by Precept

Boy Scouts of America Troops 27 and 1219

Champion Reading

CHATA (Homeschool National Honor Society and Service Organization)

Chris Chimene Music Lessons

Christian Youth Theater

Civil Air Patrol

Classical Conversations

College Essentials

Dual Credit at Home

Erin Greene Tutoring

FINS (Fun In Swimming)

Frontier Camp

Heaven Sent Choirs

Henderson's ATA Martial Arts

Home Run Ministries

Instruments of Praise Homeschool Band and Orchestras

LHC Lake Houston Conquerors Basketball and Track Teams

Lake Houston Knights

Let's Play Music

Lighthouse Yearbook

Lone Star College

Mickey Vacations

MtB Mustangs Baseball

One Day Academy

Soli Deo Gloria School

Sportball

Super Fridays

Susy Medeski Art

The Scholars Connection

Young Living
Exhibitor registration now open
---
What To Expect
---
Expo showcases to the community HEART and homeschooling. It is setup in a mini-tradeshow / conference format.
Exhibitors of homeschool related items as well as community businesses participate each year at this annual event.
Several presenters will be in side rooms to discuss homeschooling.
5:15 How to Homeschool Elementary
6:00 What Dads Care About: Homeschool Sports and Going to College
6:30 How to Homeschool Elementary
7:00 What Does High School at Home Look Like