You will be able to register for classes on either 8/1 (teachers), 8/2 (privately homeschooling families) or 8/3 (public homeschooling families). The date and time for registration will appear on the right hand corner of any class description indicating when you are able to enroll. If this does not appear, you have not registered and paid your co-op facility fee. This must be completed by 7/31 in order to register for classes when enrollment open. Any late registrations will not be processed until after enrollment has opened. You can pay your facility fee here. If joining for spring only, pay that prorated fee here.
Please be sure to make sure that your students have been added under your family profile as a child. You will be unable to enroll your student unless your have set up the child profile. Be sure to select the correct grade and input a birthdate. Click here to review and edit your family profile.
For any questions, please contact JJ at membership@cfspoway.org.


Class fees are invoiced to your family account at the the time of reigstration. You can check your balance by clicking on Balance at the top right menu bar.

These fees are due in full by 8/31 in order to hold your registrations. Any students with unpaid fees will be dropped from the enrollment and will need to re-register for the class and be added to the bottom of any waiting list. Class fees are due at the time of registration for any classes that you register for after 8/31. Payments for student, parent-alumni and outside teacher -taught classes should be made directly to the instructor no later than the first day of co-op.

Classes with Outside (O) or Student (S) instructors will show up on your registration summary with a ZERO class fee if the instructor is collecting the class fee directly.
Refund policy: If you do not receive the classes you desire and withdraw your registration prior to the first day of co-op, the co-op facility fee will be refunded. A full refund of class fees will be given for classes that are canceled.

If a class is dropped on or after the first session, the amount of the refund must be negotiated with the teacher as some of the funds may already have been spent on materials.

Please carefully read each online class description for additional refund policies set by individual teachers for their individual classes.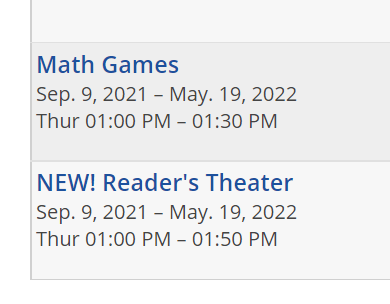 When you join a Moms in Prayer group, you're not just gathering with a supportive group of like-minded moms who understand your struggles and share your passion for your children. You're becoming part of a much bigger story of prayer for the children of the world.



Joleene Burts

, homeschooling mother of two (ages 8 and 6), will be facilitating this structured prayer time. You'll receive your own Moms in Prayer Booklet to help guide you through praying for our homeschools and children.

No registration is necessary. Come and join us whenever you can. We will meet at the picnic tables at 11 AM.

You do not have to be a part of class day to come and participate in this group.


A time to connect with other moms and the Lord. Get encouraged by God's word, prayer, and talking about what's going on in our lives along with having tea and treats. Leela Harris leads this afternoon time of community and fellowship.

???????No registration required. Please come and join us when you can. We will meet at the picnic tables at 1 PM.
You do not have to be a part of class day to come and participate in this group.
Parents are welcome to enroll in classes that are open to Adults. However, seats in these classes are prioritized for students first. Your registration will be placed on waiting list until the first week of co-op to ensure that all students have been able to register. Any remaining open seats will then be filled by the adults.

To view class summary, click on the blue button located under the matrix on bottom right.
Co-op Classes 2019-20
Mixed Grades & Adult
PK-2nd
3rd-5th
6th-8th
9th-12th & Adult

8:45 Hour A

Nursery


Nursery

Beth Zapf

FULL

Biology


Julie Lee

9:00 Hour A

Guitar Beginning (O)


4th - 12th ; Adult 20+ y/o

Jeff Bishop (O)

FULL

Song School Spanish I


1st - 3rd ; 6 y/o - 8 y/o

Elizabeth Riggs, Carolina Wilson

FULL

Human Anatomy


4th - 6th

Melanie MacPetrie

First Form Latin


5th - 8th ; 10 y/o - 13 y/o

Heather Laky

Chemistry - High School


10th - 12th

Michele Monroe, Melissa Morris

9:00 Hour B

K/1


Kindergarten - 1st ; 5 y/o - 7 y/o

Sharon Norvell, Angela Willett

Song School Latin 2


2nd - 4th

Tina Stirling

Book Club for Boys


6th - 9th ; 11 y/o - 15 y/o

Michelle Hembrador

Honors Chemistry Option


10th - 12th

Michele Monroe, Melissa Morris

9:00 Hour C

Preschool


Pre-School ; 3 y/o - 4 y/o

Doreen De Cerbo, Sarah Wammack

10:00 Hour A

Guitar Intermediate (O)


4th - 12th ; Adult 20+ y/o

Jeff Bishop (O)

Science Experiments


2nd - 4th

Jennifer Brem, Joleene Burts

ASL 1


3rd - 6th

Shari Dunbar

Children's Choir: Carolers (O)


4th - 7th

Nancy Shirley (O)

10:00 Hour B

FULL

Music & Movement


Pre-School

Shaunna Shamoon, Sarah Wammack

Literature 2nd/3rd


2nd - 3rd

Jennifer Cain

The Young Peacemaker


7th - 9th

Lori Snyder

10:00 Hour C

Cantering the Country


2nd - 5th

Stephanie Wiese

10:30 Hour A

FULL

Little Scientists K-1


Kindergarten - 1st ; 5 y/o - 7 y/o

Lisa Baldwin, Shannon Detweiler

Life Skills: Personal Finance/Apologetics


9th - 12th ; 14 y/o - 18 y/o

Amy Lewis, Shaunna Shamoon

10:30 Hour B

British Literature


10th - 12th

Lisa You

11:00 Hour A

Children's Choir: Cherubs (O)


Kindergarten - 3rd

Nancy Shirley (O)

Poets, Artists, Composers


3rd - 5th

Susanna Ojeda

FULL

Sludge Science


Michele Monroe, Melissa Morris

Theological Studies


9th - 12th

Tina Stirling

11:00 Hour B

AB Art: PreK/K Art of Illustration


Pre-School - Kindergarten ; 3 y/o - 5 y/o

Susan Murray (O)

US History


5th - 7th ; 9 y/o - 13 y/o

Sarah Murphy

11:00 Hour C

Math Study Hall


6th - 9th

Ben Stirling (S)

11:30 Hour A

ABC Fun


Pre-School ; 3 y/o - 5 y/o

Kara Vander Linden

12:00 Hour A

Geography Games


4th - 12th

Sharon Norvell

PK/K Lunch Bunch


Pre-School - Kindergarten ; Adult 20+ y/o

Lucinda Hsu

IEW - SWI A


3rd - 5th ; 8 y/o - 11 y/o

Amila von Damm

Bible Bowl - Middle School *NEW FOR SPRING*


6th - 8th

Beth Zapf

ASL - High School


7th - 12th ; Adult 20+ y/o

Shari Dunbar

12:00 Hour B

CANCELLED

Balloon Twisting *NEW FOR SPRING*


5th - 12th ; 11 y/o - Adult 20+ y/o

Michelle Argue, Liam Argue (S)

Reader's Theater


4th - 6th

Lisa Baldwin, Shannon Detweiler

Spanish - High School


8th - 12th ; Adult 20+ y/o

Katherine Staebler

12:00 Hour C

Salvage Sewing- *NEW FOR SPRING*


5th - 12th ; Adult 20+ y/o

Jenny Maeda, Jennylou Raya

American Government


10th - 11th

Kerrie Boettner

12:00 Hour D

Korean


5th - 12th ; Adult 20+ y/o

Sarah Cho

1:00 Hour A

AB Art: The Art of Illustration K-5th B (O)


Kindergarten - 5th ; 5 y/o - 11 y/o

Susan Murray (O)

Dance


Kindergarten - 3rd

Alexia Shamoon (S)

Flying Creatures 2nd-4th


2nd - 4th

Susan Johnson, Tabita Kubiak

Word Up


7th - 9th

JJ Lee

FULL

Toastmasters


9th - 12th

Michele Monroe, Nikki Steele

1:00 Hour B

Board Game Bonanza


4th - 12th ; Adult 20+ y/o

Becca Leotaud

Grammar, Vocabulary & Spelling


5th - 7th

Brianna Lee (S)

FULL

What We Believe


5th - 6th ; 10 y/o - 12 y/o

Lucinda Hsu

1:00 Hour C

Bible Bowl - Elementary *NEW FOR SPRING*


3rd - 5th

Beth Zapf

2:00 Hour A

AB Art: The Art of Illustration 5th-12th (O)


5th - 12th ; 9 y/o - 18 y/o

Susan Murray (O)

Paper Airplanes & Crafts


1st - 3rd

Becca Leotaud

Flying Creatures 5th-7th


5th - 7th

Susan Johnson, Tabita Kubiak

FULL

Civics


9th - 12th ; 14 y/o - 18 y/o

Kerrie Boettner

2:00 Hour B

Ukulele (SPRING)


3rd - 12th ; Adult 20+ y/o

Jenny Maeda, Cara Schmidt

Cover Story


6th - 9th ; 11 y/o - 14 y/o

Kareen Duquette, Heather Laky