Annual CHESF Used Curriculum Sale
Add to Your Calendar:
06/22/2019 10:00
06/22/2019 14:00
America/New_York
Annual CHESF Used Curriculum Sale
Annual CHESF Used Curriculum Sale
Faith Assembly
CHESF
tararjenner@gmail.com
false
MM/DD/YYYY
aUinrLWZczwYavqgBmQP30959
Date – Time
Annual CHESF Used Curriculum Sale – 10:00 AM - 2:00 PM

Location
Faith Assembly
7101 Batshore Rd
North Fort Myers, 33917
Location is on the North side of Bayshore off of Williams Road.
Additional Information
SAVE THE DATE
CHESF Used Curriculum Sale
Saturday, June 22
Faith Assembly of God
7101 Bayshore Road, North Fort Myers
10am-2pm
Location is very spacious. Lots of room for sellers and buyers. Strollers, wheelchairs, and book carts are welcome and will be able to maneuver with ease!
Plenty of parking and a covered drop off area in case of rain.
Shopping is free.
Seller cost is $5 per table, CHESF members $3 per table.
Cash or check to CHESF will be collected on sale day.
PLEASE BRING YOUR OWN TABLE(s)- 6 Ft. or less.
Seller set up will be 8:45am-9:45am on the morning of the sale.
Doors open to the public at 10am.
Please note the following seminar and concession options will be available at this event:
SEMINAR OFFERINGS
10:00 - 10:30 am
Session A Homeschooling 101 with Cynthia Peterson
Session B Understanding the High School to College Process for Florida Students by Amanda Sterk
10:30 - 11:30 am
Is It Really Bad Behavior? How to Tell and What to Do About It by Tara Jenner
11:30 am - 12:00 pm
Homeschooling 101 with Cynthia Peterson (repeat for those who missed the earlier session)
12:00- 1:00 pm
Play with a Purpose: Building Brain Skills and Boosting Performance with 5 Minute Activities. Hands on seminar with Tara Jenner.
1 pm - 2pm
What Every Parent Needs to Know About Dual Enrollment by Amanda Sterk
CONCESSION STAND
Water, soft drinks. and chips will be available starting at 10am
Hotdogs will be available from 11 am to 1 pm.
Sign up below to let us know you're coming. Seller, please add in information about the number of tables, under the optional sellers tab. Any question email Leslie Edvenson at sledvenson@gmail.com
Spread the word!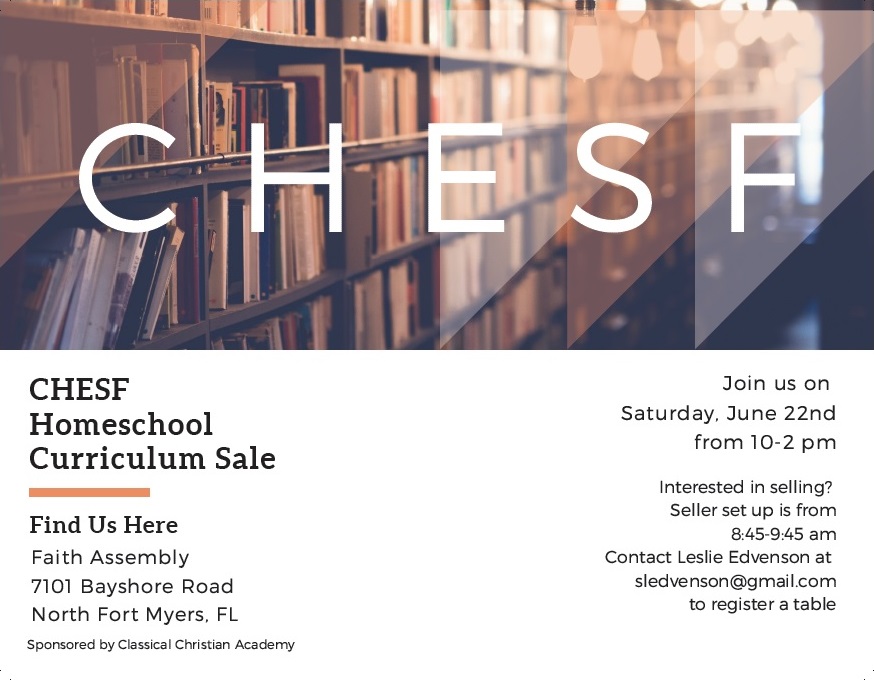 Signups
Signup is currently closed.
The Signup Deadline for this event was 6/20/2019 – 5:00 PM EST