2021-2022 TEACH BOARD MEMBERS
Did you know that the Board of Directors is the Governing Authority over TEACH? This means they help to guide all of the units that make up our organization- co-ops, field trips, athletics, special events like formal and graduations, etc.
We hold an election each year to choose our new board members who will serve a two year term. We want to make sure you know who your board members are! They are moms and dads in the organization just like everyone else and are happy to chat with you anytime. Their contact info is listed on the Contacts page.
Matthew & Julie Wine, President
Matthew and Julie have been married 19 years and call each other best friends. We have 5 children (ages 16, 13, 11, 9, 4) who are our greatest treasures. We began homeschooling when our oldest started Kindergarten. We feel like the Lord led us to homeschool, and it has been an amazing journey. We are so thankful for the opportunity to be together with our kids, learning at home. We are also very grateful for TEACH and the Johnson City co-op, which has been such a blessing over the last 11 years. The friends we have made, the opportunity for fellowship with other homeschooling families, and unique and awesome classes taught by excellent parents have all been a source of encouragement to us.
We are involved in a prayer ministry in the Tri-Cities as our full-time calling and occupation. Julie also teaches online English classes in the early morning hours. We really love connecting with Jesus and encouraging others to do the same!
Jennifer Clark, Vice President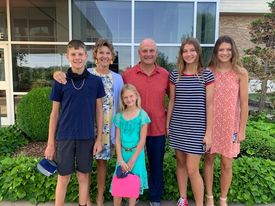 Jennifer and her husband, Danny, have been married for 18 years and have 4 children. Jennifer has a background in education. They have been a part of TEACH for 10 years. Their children have been blessed by co-op, athletics, and many other activities that TEACH provides. She wants to serve the homeschool community through the TEACH Board.
Holly Pate, Treasurer
Holly and her hu
sband, Jordan, have been married for 14 years, have 2 children and a dog named Ellie. Their boys, Silas and Ryder, are 12 and 6. Holly is now a stay-at-home homeschool mom, but has worked in the past at a local bank and operated her own housecleaning business. Both have served in student and children's ministries for many years. "We began our homeschool journey when Silas started 2nd grade, and what a journey and blessing it's been! We have been members of TEACH for 5 years and have participated in Co-ops, Athletics, Spelling Bees, Beta Club, Field Trips, etc. We enjoy all the opportunities that come with being a member of TEACH."
Amy & Micah Crews, Secretary
Micah and Amy have been married for 20 glorious years. They have two children aged 16 and 14. The Crews family has homeschooled from kindergarten to high school. They have been members of TEACH since 2014. Amy and kids have been actively involved in the Johnson City Co-op with Amy teaching a number of classes. The Crews family is very thankful for the opportunities that TEACH has provided, from boffer games to SADD club and necessary high school classes to prayer ministry opportunities.
Micah has worked at King University for 20+ years in admissions and advancement. Amy is a licensed elementary school teacher and currently teaches English classes online. The family is active at Hosanna Fellowship church in Johnson City. Micah serves as an elder, and Amy helps to lead the children's ministry program. The family enjoys film, theatre, ballet, games, and playing with their two cats.
Stan Ramsey
Stan Ramsey has worked for the City of Kingsport for the past 23 years. Prior to that, he served 7 years in the U.S. Army. Currently he is a Driver/Dispatcher for KATS (Kingsport Area Transit). Stan's daughter, Kaleigh, is a student at Teach and is currently in the 8th grade. Stan also works part time as a Sports Official and was just named as Umpire in Chief for East Tennessee USSSA baseball.
Stan accepted Jesus as his savior as a teenager at Bancroft Bible Camp in Kingsport. He later served at Bancroft as Junior Staff and as a Camp Counselor. He currently goes to Airport Christian Church.
Stan and his daughter, Kaleigh, have been at Johnson City Co-op for the past 5 years. Stan enjoys teaching Sports-related classes, American Government, Survival Skills, and will also be teaching Life Skills in the Spring semester. He is currently an Alternate for the Teach Board of Directors.
Samantha Brown is Kaleigh's mother and is also a member of Johnson City Co-op. Although Stan and Samantha are no longer married, they remain good friends and have set the bar high at co-parenting.
Jilian & Adam Reece, Alternate #1
Jilian is the mother to four amazing humans- ages 11 (Carter), eight (Cole), six (Cash) and three (Charlie). Jilian has served TEACH in a variety of ways throughout the past several years including coordinating TEACH field trips, kindergarten graduation, homeschool expo, back to school picnic, pre-school director for TEACH Elizabethton and TEACH Johnson City and as the TEACH Board President for four years. Jilian works full time as the Director of Carter County Drug Prevention Coalition, assisting in youth prevention and cessation of binge drinking, substance abuse and tobacco use. She holds positions as the Chair(s) of the Elizabethton/Carter County Public Library Board and Carter County Collaborative, is a board member for Red Legacy Recovery and PEAK Mentorship Program and second only to her family, enjoys serving her community more than anything else. She is grateful for the lessons she has learned and blessings she has received in her time with TEACH and excited for one more year to work diligently on supporting the new administration to the best of her ability.