Family Education for Christ
will begin accepting membership applications
for the 2021-2022 school year on August 1st.
In order to grant leadership a day of Sabbath rest,
application processing will begin on the 2nd.
You should expect processing to take from several days to a week.

Click here to request membership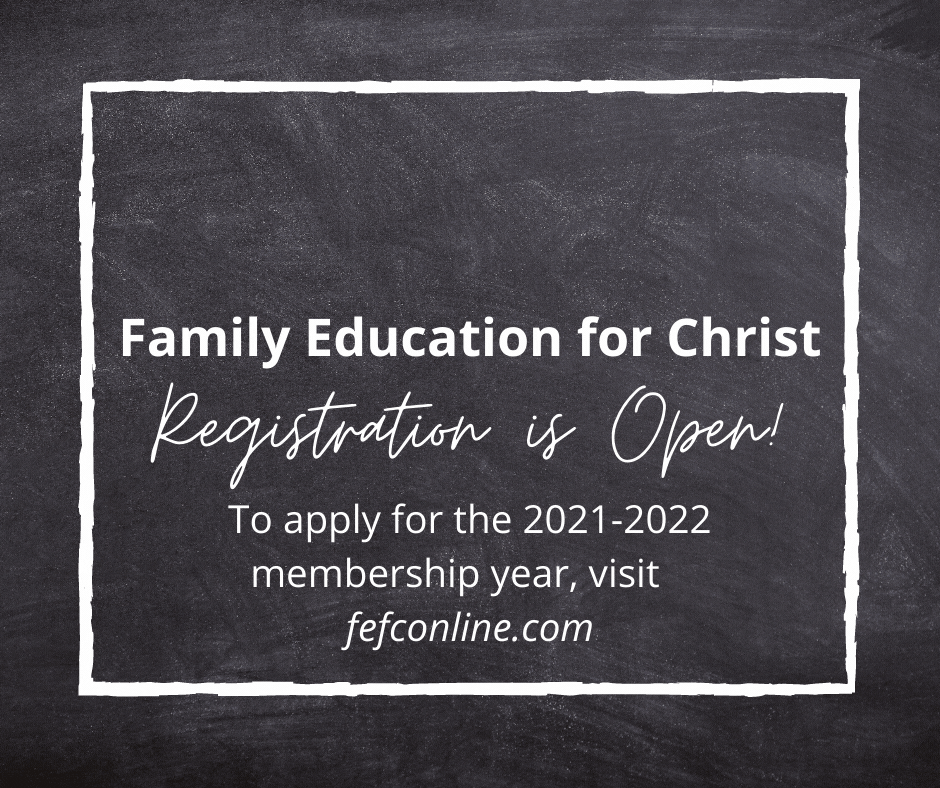 We are looking forward to an exciting new year!
---
Family Education For Christ is a Christian home school support group serving Savannah, GA and the surrounding areas. We are comprised of families committed to God's admonition that we raise our children "in the discipline and instruction of the Lord" (Ephesians 6:4), and diligently and purposefully train them as exemplified in Deuteronomy 6:6-7.

FEFC supports the work of the local church and encourages families to be active and accountable in a body of believers. It is our intent and design that this group be neither a replacement for nor a hindrance to your own church commitment and involvement. For this reason, we stay single-minded in our function to serve as a tool for your homeschool, with our emphasis on providing meaningful educational and social experiences for you and your children. We strive to select activities that do not duplicate those which are generally considered to be the function of your local church.

The purpose of FEFC is to encourage member families to grow and thrive in their respective homeschool environments, and to facilitate their success by providing information and support services while upholding the biblical principles on which the association is founded.
According to the needs & interests of our families, activities include a wide range of categories (some constantly changing!) such as: Science Fair, Yearbook, Park Play, Speech & Debate Club, Sr. High Graduation, Skate Day, Trail Life, American Heritage Girls, Support Group Meetings, TeenPact, Curriculum Connection Book Fair, Theater Ensemble, High School: Group Activities / Student Council / Spring Dance, Middle School Group Activities, Field Trips, Ice Skating, Workshops, Kindergarten Graduation & more!
Blessings in your homeschooling journey!
The 2020-2021 Family Education for Christ Board of Officers
Lisa Moore - President
April Little - Vice President
Charissa Love - Treasurer
Andie Larson- Secretary