Who is T.E.A.C.H?
Welcome!
We are so glad that you are interested in learning more about our Christian homeschooling community here in Northern Michigan. T.E.A.C.H. (Total Education Abiding in Christian Homes) is a Christ-centered support group established to provide fellowship and encouragement to our members. We strive to provide many different opportunities to enhance the homeschooling journey and assist families who recognize the value of providing a Biblical education at home. We offer many events, field trips, co-op, and choir classes throughout the year as well as yearly concerts, dances, and a graduation ceremony. Please email [email protected] to find out more information or click the link to Request T.E.A.C.H. Membership. We look forward to talking with you!
Matching Grant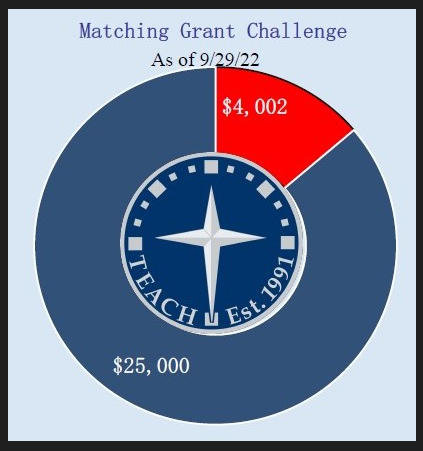 Matching Grant
-TEACH has been challenged by Mr. Thomas Stokes to raise $25,000 in 2 years (Jan '22- Dec '23)
-He will match that challenge if we succeed!
-All funds we raise will be placed in a TEACH Endowment Fund to financially strengthen our organization for the future.
Please click here for more detailed information
We have a variety of Choir and Dance Classes available to our students. Private lesson recommendations are also available.
Each month there will be a Co-op wide event to foster community connection. (Current Ideas: Platte River Float and Picnic, Sledding Party, etc.)

A series of both local and state-wide field trips planned throughout the year. We are hoping to offer more than 14 of these this year.