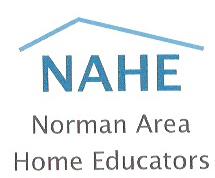 Welcome to our website! Feel free to look around at our public information and links on this page. For more information or questions, please email: info@normanhomeschool.org
If you would like to become part of our organization, click "JOIN" at the top of this page to go to the membership registration form. Once you are a member, you will have the ability to sign in to the secure, members only side of the website. There, you will find a calendar of events, our membership directory, and field trip sign ups. General NAHE information, and a plethora of local homeschooling resources are also available in our NAHE Handbook.
NORMAN AREA HOME EDUCATORS' VISION STATEMENT
NAHE is a group of Christian homeschoolers that assists member families in
finding resources and sharing information, offers social activities and various
enrichment opportunities, and supports our local homeschool community.
NAHE strives to be a community, rather than an organization. We desire to be
membership oriented, rather than leadership driven.
NAHE encourages its members to be active spiritually within their individual
families, churches, and our local community.
A Christian perspective is generally assumed but not required for participation.
NAHE is an affiliate of the Oklahoma Christian Home Educators Consociation and
as such, leadership couples assent to the OCHEC statement of faith as found
at ochec.com.

While we support parents' rights to choose the method and source of their
child(ren)'s education, NAHE leadership agrees with the Home School Legal
Defense Association (HSLDA) and the Oklahoma Christian Home Educators
Consociation (OCHEC) that virtual schools are public-school-at-home, not home
education. Parents who choose public-school-at-home are also accepting the
bureaucracy and government supervision that is linked to accepting tax dollars.
OCHEC defines the terms `home education', `homeschooling', and `home
schooling' exclusively as the privately-funded, home-based education and
discipleship of children by their own parents or guardians.
However, because the families that take part in public-school-at-home face many of the same
issues and challenges as home educators, the board welcomes their membership
in NAHE, and allows them access to all benefits therein. However, in an effort to
protect the integrity of our home education organization, public-school-at-home
parents may not hold NAHE Council positions, nor will NAHE promote
government funded home-based school programs.