Homeschool-Life.com App
Available for iPhone, iPad and Android devices!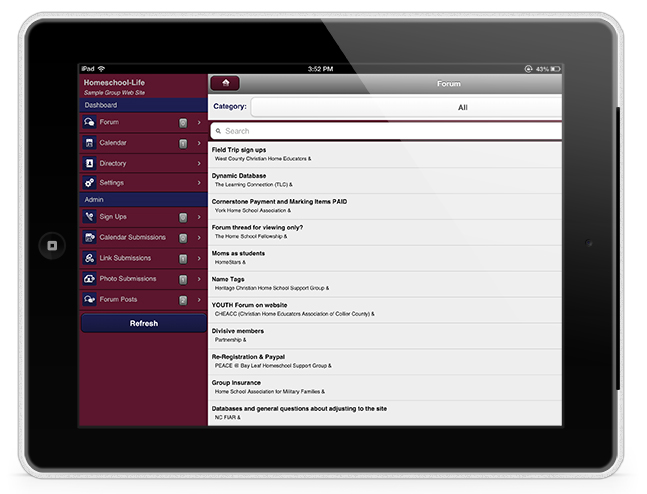 Family Side of App
Secure Login. Login once and forget about it. You have instant access to your homeschool group web site!
Dashboard. The dashboard slides in and out for easy navigation.
Group Name. Touch your group name in the dashboard and automatically be transported to your group web site.
Forum. Take the forum with you in the convenience of an app. You will only be prompted to login once to the app, then forget about it. From there, the forum posts are automated.
Calendar. Stay current with homeschool group events; complete with online signups and driving directions.
Event Signups. Signing up for an event has never been easier as well as seeing a list of events you are signed up for.
Family Directory. Finding families inside your secure homeschool group is a snap. Call, email and lookups; all within the app.
Multiple groups. If you belong to multiple groups, you can toggle back and forth between groups with ease.
Site Admin Side of App
Review and Approve calendar, links and photo submissions
Review and Approve family membership registrations
Review and Moderate forums
App Technical Support
App Feedback
We would love to hear from you to improve the Homeschool-Life.com App.
Email your comments for improvement to appdev@homeschool-life.com