USED CURRICULUM SALE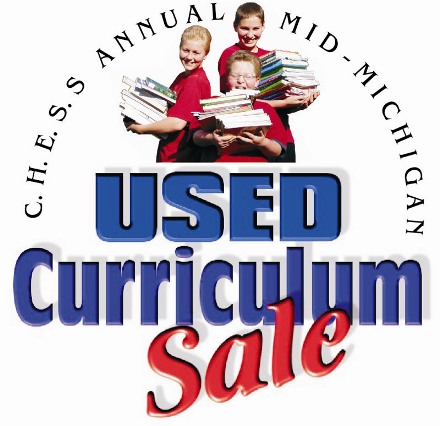 Annual Mid-Michigan Used Curriculum Sale
Thursday, May 15, 2014 3pm - 7pm
Friday, May 16, 2014, 8am - 10am
Location: Lansing Center 333 East Michigan Avenue, Lansing, MI 48933
Contact: Miriam Woods at resource@lansinghomeschoolers.com or Susan Hunt hunt4god@wowway.com
Please invite all your friends and help us spread the word!
Sellers:
Plan to clean out those school desks and sort through those overflowing bookshelves! Box it up and bring it to the Used Curriculum Sale! Seller instructions are available at our website:
http://ucs.sudleysprings.com/chess/
You must register online and print labels with barcodes for your books. We are computerizing the system – new this year. Instructions include specific information on how to label and classify each item you wish to sell, along with when to drop-off your items and when to pick up unsold things after the sale. Questions? Contact Miriam Woods by email,
resource@lansinghomeschoolers.com
or
Susan Hunt
hunt4god@wowway.com
Shoppers: Planning for next year? Looking for the books, curriculum and other educational resources you?ll need? Then don?t miss the Used Curriculum Sale on May 15! Admission is only $1. This is the PERFECT place to find what you need at a fraction of the cost of new materials! We sort the books and provide lots of signs to help you find your way to those special items you?re looking for! Lots and lots of categories to choose from!
Helpers: We need many CHESS volunteers to make this sale a success. Could you lend a hand with any of the following? If so, contact Susan Hunt to volunteer your services! (Note: Those who help us will get an added bonus of being able to shop and pick out 10 items on Thursday afternoon before the sale starts. We have limited it to 10 items so all the "good stuff" isn't taken before the sale starts.) Helpers need to be CHESS members. Here is a list of times we need help and jobs we need done.
Thursday, 5/15, 9-11 am – Room and table set up and signs posted.
Thursday, 5/15, 10am – 3pm – Receiving books as they are dropped off, sorting into categories, and organizing for the sale.
Thursday, 5/15, 2:30pm – 7pm – Working during the sale as cashiers and helpers.
Friday, 5/16, 8am – 12:00 – Work during the sale as cashiers and helpers. Resorting books, moving books & tables (teens will help), taking down signs, helping people move their unsold books to their cars.