Old Sturbridge Village- Homeschool Day
Date – Time
September 10, 2021 – 9:30 AM - 4:00 PM

Location
Old Sturbridge Village
1 Old Sturbridge Village Road
Sturbridge, MA 01556 US

Additional Information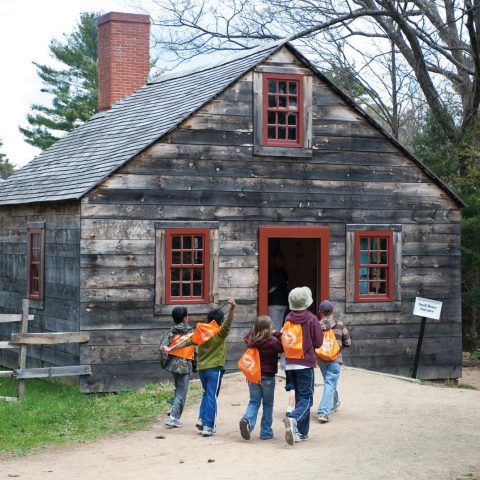 Get back into learning mode with us at our September 10th Homeschool Day! Participants will try their hands at workshops relating to education in the 1830s, along with other seasonal projects that allow them to get their hands on history. What was schooling like in the 19th century? What did children learn? When did they attend? We will focus on all these questions and more during our first Homeschool Day of the 2021/2022 season.
Home School Days offer you and your family the opportunity to explore the Village and participate in activities. From games, to woodworking, to nature exploration, this is a great opportunity for kids to gain exposure to many aspects of 1830s New England life in an interactive way.
The health and safety of our visitors is our top priority, so this Home School Day will look a little different from past events. All of the following workshops are outside (except where noted), allowing for appropriate social distancing. Participants will have their own supplies, which will be cleaned and sanitized between groups. Register for one of the in-person programs with the Village's knowledgeable staff or explore the Village on your own using self-guides, scavenger hunts, and more.
Admission and Ticketing
On Home School Day, homeschoolers (ages 4-17) get in at the discounted rate $10 and one adult is admitted per home school youth at the discounted rate of $15. Additional adults above the 1 to 1 ratio are admitted at the full rate of $28. As always, members get into the Village for free.
Please note: All visitors must enter the Village through the main Visitor Center. At this time, Museum Education remains closed to the public. If this changes, we will notify you via email
Timed In-Person Workshops (subject to change) these fill up very fast.
Things to know:
Pre-registration is required for all activities listed below, unless otherwise noted.
All events are limited to 10 students due to restrictions on group size.
These are not drop-in programs and our staff will have a list of registrants for each workshop.
Please let us know as soon as possible if you need to cancel your workshop tickets. There is a high demand for these workshops and we would like to be able to offer spots to other participants. You can contact us at

[email protected]

.
Students' guardians must stay in close proximity of the program location for the entire duration of the activity for safety reasons.
All activities will take place outside to allow for proper social distancing, weather permitting (except where noted).
Meeting locations for these workshops may change. Stay tuned to your email or signage at the Visitor Center on the day of the program for any potential location changes.
Workshop times are approximate. Please stay close by during your child's workshop.