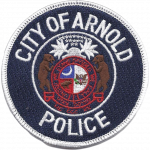 THIS FIELD TRIP IS FULL, but we are taking a
WAITING LIST.
FIELD TRIP: TOUR OF THE
ARNOLD POLICE DEPARTMENT
WHAT:
Tour of the Arnold Police Department
WHEN:
Friday, February 9, 2018 at 10:00 a.m.
WHERE:
2101 Jeffco Blvd.
Arnold, MO 63010
DETAILS:
We will be given a tour of the police department to better understand the responsibilities of the local police, their function in law enforcement, and the
necessity and importance of all the ways they serve us everyday. Also, we will gain a better understanding of the internal operations of the local
department, then how local police activities relate to both federal and state law enforcement. And most importantly that each and every officer has
to take risks, sometimes life-threatening, to protect us and help insure our safety.

COST: No cost
SIGN-UP LIMIT: The number limit for sign-up is 35 total.
HOW TO REGISTER: Scroll down to register