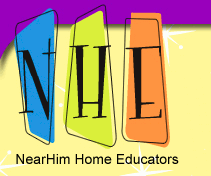 INTERESTED IN JOINING NHE?
Click the Request Membership link at the top of the page for details and to register for membership. Questions? Connect with Mandy Ohmstede our Membership Coordinator at aohmstede001@cfl.rr.com.
NearHim Educators Parent Enrichment Meeting
August 27
ENCOURAGING MOMS AND DADS
Guest Speaker Connie Albers
The homeschooling journey is lived out differently in each household. Your decision isn't always clear cut or easy.
Y
ou experience excitement as you plan out your year; then without warning, doubt and fear creep in.
Maybe comments from well-meaning relatives or friends make you wonder if you can really do this.
As the new school year kicks off, we look forward to having Connie Albers, homeschool mom of 21 years, join us.
She will share real-life tips that will give you the confidence to know your investment in this adventure of homeschooling is part of building the strong family your heart desires.
6pm- New to Homeschooling segment- room 5110
NEW (ER) TO HOMESCHOOLING?
Or just have some questions on the "next" step?
Join the conversation at 6pm before every monthly meeting.
Experienced moms will be available to help answer questions and connect you
to the people/resources you need.
Meet in room 5110 and bring your questions!
6pm- New to Homeschooling segment
6:30pm- Connect with other parents
7pm- Monthly meeting begins
Meetings are for adults unless otherwise indicated in the meeting description,
nursing babies always welcome!