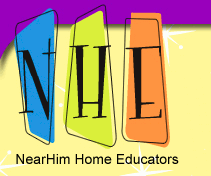 INTERESTED IN JOINING NHE?
Click the Request Membership link at the top of the page for details and to register for membership. Questions? Connect with Mandy Ohmstede our Membership Coordinator at
aohmstede001@cfl.rr.com
.
READY FOR CHRISTMAS ALREADY? YOU ARE INVITED TO SHOP!
The NHE Family Christmas Bazaar
December 11
1pm-3pm
Northland in The Rink
*cash only- bring $1 and quarters to shop at each booth
$1 water bottles on sale, all donations go to provide homeless ministry hygiene baggies.
This is an event for NHE kids to be able to make Christmas items at home and sell them to friends and families.
OPEN TO THE PUBLIC FOR SHOPPING from 1-3pm. INVITE EVERYONE YOU KNOW!
Questions? Email Lucee.price@gmail.com
---
NHE PARENT ENRICHMENT MEETING
January 28
Homeschool Graduate Panel
Just as each child's learning path is unique to him or her, so are the decisions made when choosing what passions and interests will carry over into adulthood. In this panel discussion, hear firsthand from homeschool graduates who have moved beyond schooling at home and into the world of higher academics, careers and vocations.
Representing a variety of ages and life decisions, each panel member will offer a brief glimpse into the key features of homeschooling they feel have been positive and, if relevant, areas they feel could have been improved. Following this introduction, the meeting will be interactive with questions and answers.
Come and receive encouragement, inspiration, and guidance as you travel with your own children on their homeschool journey.
Please send any questions you have before the meeting so the panelists can prepare some of their answers. Bring your teens and invite them to send any questions they may have as they consider their own futures. Questions can be sent to sarahmarg2003@yahoo.com.
6pm- New to Homeschooling segment- room 5110
NEW (ER) TO HOMESCHOOLING?
Or just have some questions on the "next" step?
Join the conversation at 6pm before every monthly meeting.
Experienced moms will be available to help answer questions and connect you
to the people/resources you need.
Meet in room 5110 and bring your questions!
6pm- New to Homeschooling segment
6:30pm- Connect with other parents
7pm- Monthly meeting begins
Meetings are for adults unless otherwise indicated in the meeting description,
nursing babies always welcome!