Used Curriculum Sale
SAVE THE DATE
CHESF Used Curriculum Sale
Saturday, June 22
Faith Assembly of God
7101 Bayshore Road, North Fort Myers
10am-2pm
Location is very spacious. Lots of room for sellers and buyers. Strollers, wheelchairs, and book carts are welcome and will be able to maneuver with ease!
Plenty of parking and a covered drop off area in case of rain.
Shopping is free.
Seller cost is $5 per table, CHESF members $3 per table.
Cash or check to CHESF will be collected on sale day.
PLEASE BRING YOUR OWN TABLE(s)- 6 Ft. or less.
Seller set up will be 8:45am-9:45am on the morning of the sale.
Doors open to the public at 10am.
Sign up HERE to let us know you're coming. Seller, please add in information about the number of tables, under the optional sellers tab. Any question email Leslie Edvenson at sledvenson@gmail.com
Spread the word!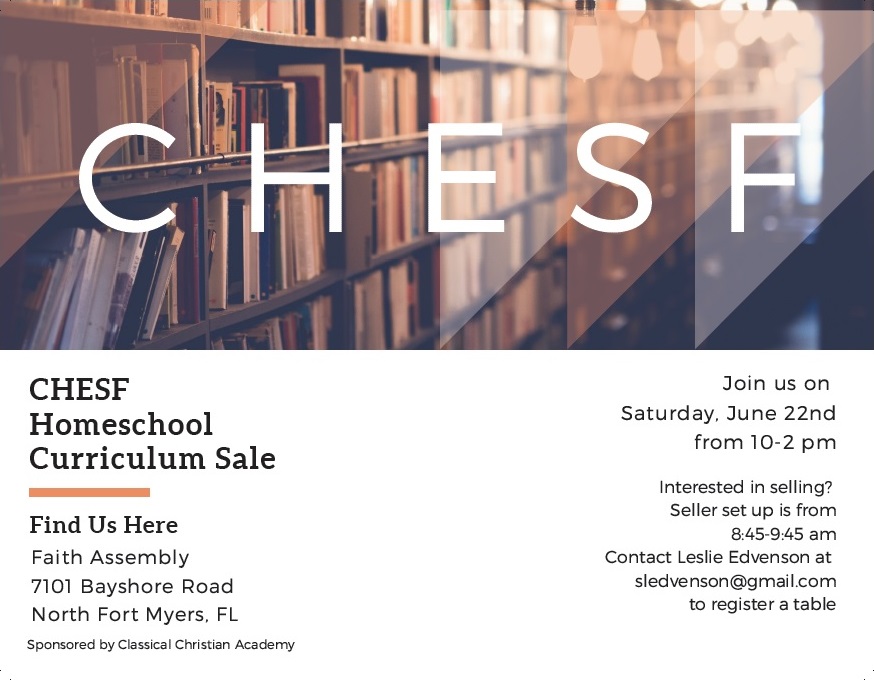 May Graduation
Come join us at The Church of the Nazarene for our Graduation and Commencement Ceremony Saturday, May 18th at 1pm.
This month, instead of a monthly meeting, we are celebrating our graduates. Please join us in recognizing our graduating Seniors, as well as Kindergarteners and recognition awards for others. Signup as a guest (no charge) HERE to help us with planning. We are also in need of volunteers to help with clean up so the graduates and their families can enjoy the rest of their day celebrating.






Welcome to CHESF
CHESF is a Christ-centered homeschool support group that encourages and equips homeschooling families in our area.
We invite you and your family to come to one of our monthly meetings, usually held the second Monday of each month at 7:00 p.m. Locations vary so please check our calendar for details. We have been blessed over the years with an experienced body of members willing to share their passion with others. Come and get to know a few of our familes to see if our support group is a good fit for your family.
For now, peruse the public pages of our website and get to know a little about who we are and what we offer. Please note that only monthly meetings are shown on this public calendar of events on the right. Members may view all of our upcoming field trips and activities.