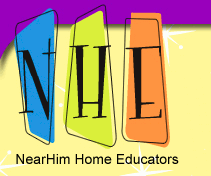 INTERESTED IN JOINING NHE?
Click the Request Membership link at the top of the page for details and to register for membership. Questions? Connect with Mandy Ohmstede our Membership Coordinator at aohmstede001@cfl.rr.com.
NHE PARENT ENRICHMENT MEETING
October 23
Northland Church
530 Dogtrack Road, Longwood, FL 32750
Learning with Literature and the Library
Cheryl Bastian and Meredith Curtis
We know books encourage reading, but what about mathematics, language arts, social sciences, natural sciences, fine arts, and character. Cheryl will share how to use the precious gems of literature to enrich content areas, inspire minds, and speak to the hearts of preschool through middle school aged learners, offering suggestions regarding regular library visits, library etiquette, book borrowing, and home storage of library materials so you don't owe library fines greater than your mortgage.
SPEAKERS
Cheryl Bastian is a home educating mom of 7, 2 graduates and 5 school-aged children. A lover of literature, Cheryl uses the library extensively to teach and reinforce concepts in all content areas for all ages, preschool through adult. She loves to share this passion with others.
Meredith Curtis, pastor's wife and homeschooling mom of five amazing children, has been married to her college sweetheart for 30 years. She loves Jesus, leads worship, homeschools, writes, mentors ladies, and, sometimes, even cooks dinner! She is the author of Joyful and Successful Homeschooling; Unlocking the Mysteries of Homeschooling High School; Jesus Fill my Heart and Home; Economics, Finance, and Business Class; God's Girls Beauty Secret's; and Teaching Literature in High School. Meredith wants to encourage homeschooling families to be joyful and successful in their homeschool adventures, all the way to high school graduation.
WHY SHOULD YOU COME?
Can you teach with living books in high school? Yes, you can! History is HIS Story so it just makes sense to use great books, biographies, and classic literature to make learning history more exciting. Meredith will share how her family uses living books instead of, or in addition to, textbooks.
6pm- New to Homeschooling segment- room 5110
NEW (ER) TO HOMESCHOOLING?
Or just have some questions on the "next" step?
Join the conversation at 6pm before every monthly meeting. Experienced moms will be available to help answer questions and connect you to the people/resources you need. Meet in room 5110 and bring your questions!
6:30pm- Fellowship- room 5108
7pm- Monthly meeting begins- room 5108
Northland Church
6pm- New to Homeschooling segment
7pm- Monthly meeting begins
Meetings are for adults unless otherwise indicated in the meeting description, nursing babies always welcome!