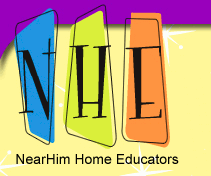 INTERESTED IN JOINING NHE?
Click the Request Membership link at the top of the page for details and to register for membership. Questions? Connect with Mandy Ohmstede our Membership Coordinator at aohmstede001@cfl.rr.com.
NHE PARENT ENRICHMENT MEETING
September 25
Northland Church
530 Dogtrack Road, Longwood, FL 32750
6pm- New to Homeschooling segment- room 5110
NEW (ER) TO HOMESCHOOLING?
Or just have some questions on the "next" step?
Join the conversation at 6pm before every monthly meeting. Experienced moms will be available to help answer questions and connect you to the people/resources you need. Meet in room 5110 and bring your questions!
6:30pm- Fellowship- room 5108
7pm- Monthly meeting begins- room 5108
Moms Panel based on Todd Wilson's book, The Lies Homeschool Mom's Believe
Your house is a disaster, your kids seem out of control, and you wonder how you'll ever make it through another day of school. Your 'get up and go' has 'gotten up and went'. You used to think homeschooling was the best thing since sliced bread, but now you're feeling like burnt toast. Take heart-- you're not alone! Most homeschooling moms are prone to believing lies that say, you're not good enough... you aren't qualified ... and you are ruining your children. If you believe these lies, you will crumble under the weight of homeschooling and feel defeated and alone. But if you learn to recognize these lies and combat with the TRUTH, then you will experience peace, joy, and freedom.
Come and hear from a Panel of Mom's walking this journey and discover the steps to combat the lies homeschooling moms believe and to fill your mind and heart with the truth.
6pm- New to Homeschooling segment
7pm- Monthly meeting begins
Meetings are for adults unless otherwise indicated in the meeting description, nursing babies always welcome!