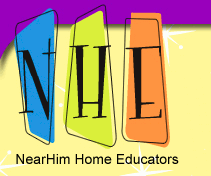 INTERESTED IN JOINING NHE?
Click the Request Membership link at the top of the page for details and to register for membership. Questions? Connect with Mandy Ohmstede our Membership Coordinator at aohmstede001@cfl.rr.com.
Next NHE PARENT ENRICHMENT MEETING
January 22
Northland Church
530 Dogtrack Road, Longwood, FL 32750
"SERVING A HIGHER PURPOSE"
Lucee Price, Missions Trip and Service Project Team Leader
Have you ever felt like incorporating serving activities into your family's life but think adding one more activity might just push you over the edge?
Serving others can be "Who You Are" and not just "What You Do"!
Join Lucee Price, long time missions trip and service project team leader, NHE homeschooling mom, wife, and lover of Jesus as she navigates what serving others can look like from birth to adult.
Be encouraged and leave with simple ideas that your family can immediately use to share the love of Jesus with those closest to you and watch as your service to Him ripples outwards to the far ends of the globe!
Special presentation by Julianna Hurley on the work she and her family have done serving with "One Heart"
Amie Hurley will share of their family's journey serving with Child Evangelism Fellowship and how it has impacted their oldest daughter, Jacqualine.
6pm- New to Homeschooling segment- room 5110
NEW (ER) TO HOMESCHOOLING?
Or just have some questions on the "next" step?
Join the conversation at 6pm before every monthly meeting.
Experienced moms will be available to help answer questions and connect you
to the people/resources you need.
Meet in room 5110 and bring your questions!
6pm- New to Homeschooling segment
6:30pm- Connect with other parents
7pm- Monthly meeting begins
Meetings are for adults unless otherwise indicated in the meeting description,
nursing babies always welcome!