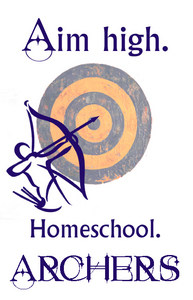 Accomplishing Welcome to ARCHERS Homeschool Group!
Rich
Christian
Home
Education through
Relationships &
Support
Psalm 127:4 "As arrows are in the hand of a mighty man; so are children of the youth."
Membership HAS REACHED CAPACITY for the 2014-2015 school year and we will not accept any more applications. Please stop back next May to apply for the 2015-2016 school year. Thanks for your interest!
Grace Church members--contact Kelly Griffiths directly.
Interested in learning more about ARCHERS? Check out the FAQ page (in the LINKS section) and our PUBLIC calendar for events you may wish to attend (There are many more activities within ARCHERS on our private calendar that are members' only events).