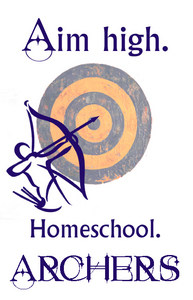 Accomplishing Welcome to ARCHERS Homeschool Group!
Rich
Christian
Home
Education through
Relationships &
Support
Psalm 127:4 "As arrows are in the hand of a mighty man; so are children of the youth."
MEMBERSHIP
Applications for the 2015-2016 school year are now open and will close for the 2015-2016 school year on June 30, 2015. No applications will be accepted after that date. If you are a Grace Church member, contact Harbene Zaleski.
UPCOMING ARCHERS EVENTS
All listed events are at Grace Church
7393 Pearl Road, Middleburg Hts, OH. 44130
Homeschool How-To
April 27, 6:30 PM Room 2 (Lower Level)
Want information on how to do this thing called homeschooling? This meeting is for you. We'll answer all the necessary and general questions about homeschooling.
Contact Layla Johnson for details
ljohns99@sbcglobal.net
Interested Member Meeting
May 12, 6:30 PM Room 2 (Lower Level)
Interested in learning more about ARCHERS Homeschool Group specifically? This meeting is for you. We'll talk about what membership in ARCHERS involves, both in what it provides for you, and what it requires from you.
Contact. Kelly Griffiths for details
kellylynngriffiths@gmail.com
Book Fair
June 8, 2015 6-9 PM Activity Center
Looking for used curriculum? This is the place to shop!