Business Directory
Browse Alphabetically
A | B | C | D | E | F | G | H | I | J | K | L | M | N | O | P | Q | R | S | T | U | V | W | X | Y | Z | All
Browse By Category
The Magic For Less Travel
Submitted by: Sewell
Contact 2204 Stonebridge Rd Dothan, AL 36301 Phone: 3347919763 Cell: 3347919763 Fax: 3347919763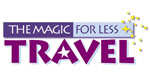 We (Hope and Keith Sewell) are so excited to announce that we have partnered with The Magic For Less Travel and are now trained and certified to help you in booking and planning your next magical vacation to any and all world wide Disney and Orlando destinations. You all know we love the Mouse and have made so many special memories with our family at Walt Disney World and we can't wait to help you do the same. We chose to partner with The Magic For Less Travel because they are an authorized Disney Vacation Planner and have received some of the highest earmarks from the Disney company. We offer free concierge services to their guests as well as exclusive special promotions for qualifying vacation packages.
So what are the benefits to working with us to book and plan your trip?
It's FREE- It will cost you absolutely nothing to use our services.
We can save you money- We stay on top of all Disney news as well as published and non-published discounts that are being offered. If a discount becomes available for your trip dates after you've already booked, we'll know and will apply that discount to your reservation automatically.
Exclusive Discounts and Bonuses- As I mentioned earlier, The Magic For Less Travel has our own specials and discounts that can be combined with many Disney and Universal discounts to save you more money.
Personalized Concierge Service- Planning a Disney vacation is getting more and more complicated and it can be stressful. Working with us allows us to do all the work of pricing and booking while you pack your bags and simply enjoy your trip!
Itinerary Planning- We can make dining and recreation reservations and keep you up to date on parade times, park hours, fireworks show times, and more. We can do as much (even helping you with your daily park touring plans) or as little of as you want. Your trip will be customized just for you and your family's needs.
Experience- We have graduated from the College of Disney Knowledge and have hands-on experience in the World. We love it and are super passionate about helping you make memories that are just as magical as ours. We're also graduates of the Universal Specialist course. We are in the process of experiencing both parks and learning as much as we can in order to make things easier for you. It's a tough job, but somebody's got to do it.
If you've been thinking about taking a Disney trip but just weren't sure how to get started, give us a call!! We are ready to help you make magical memories that will last a lifetime!!
---