Running2Win Instructions
Updated 6/1/2020.
READ CAREFULLY as your internet privacy/security is important.
Then follow the instructions for logging your running and cross training.
Your Account (4 steps)
1. Create an account.
If you have had a Running2Win account in the past, do not create a new one!
Your old account still exists (unless you deleted it), so if you are not listed on this season's team, request a team invitation (see bullet points below).
If you do not remember your login/password, follow the prompts on the login screen to retrieve it.
Click here to create an account (unless you already have one, see above).
Do not use # symbols in your username! Numbers are O.K.

Do not pay for a subscription! You will be included in the team plan.

While logged in, click here and then "Request to Join Team."

If that doesn't work, go to the Menu-->Teams/Groups-->Find/Join a Team and enter "Nighthawk" to find us on the list.
2. Set your Running2Win Profile privacy such that your logs and other personal information are not publicly visible.
***You do, however, want your coaches and teammates/friends to view your logs, so keep those boxes checked. See below.
To edit your Profile, click on your username (at the top of the page where it says "Welcome Whatsyourname").
You will then see the following screen: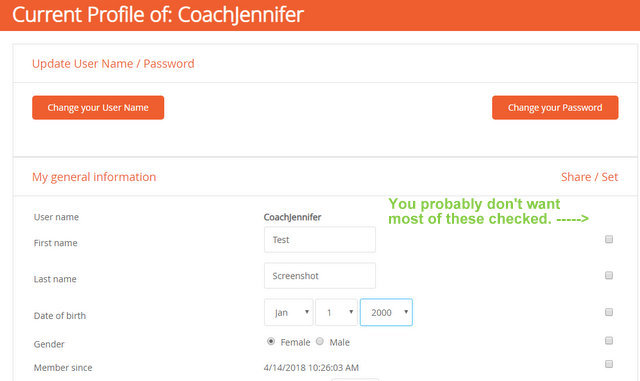 SCROLL THROUGH YOUR ENTIRE PROFILE (there is more!), and make sure your private information is not set to public!
Note: R-mail is the Running2Win messaging system. When you receive a comment on your log, you will be notified via r-mail.
If you would like to be notified by email of new comments on your log, check the box in your Profile that says:
Notify me by e-mail when I receive a Running2Win r-mail
At this time, other r-mail messages (individual messages, replies to comments, team discussions, etc.) are not being forwarded to email. The developer is working on this. Until it is fixed, check your r-mail when you login to record your workouts.
3. Double check your Profile.
Many new users think their privacy settings are fine--until they discover their photo, name, birth date, city/state/zip, etc. are set to Public!
Click "Edit Profile" to make changes.
When done, click the Update my profile button.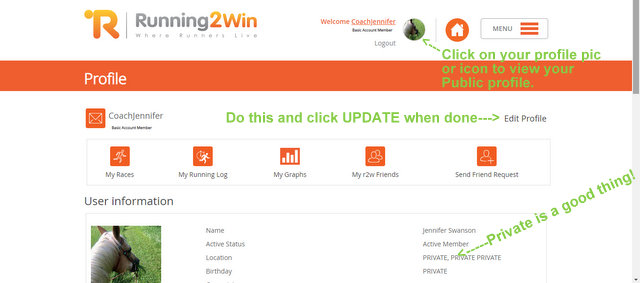 4. Email the Coach(es) to let them know you have placed a request (the system does not alert us otherwise). :}

Logging Your Training
Log the correct date! :)
Run Logging
Watch the video for instructions: https://youtu.be/48-iJurQ8pI
At a minimum, enter your distance, time, and (in the comments) a summary of your workout.
Take advantage of the Shoes feature to track your mileage, so you know when it's time to replace them (~400 miles).
Cross Training
MUST BE COACH-APPROVED X-MILES for summer running and in-season training. See team website.
For non-x-miles, do not add these to your totals. If you want to keep track for your own purposes, see the P.P.S. for instructions.
If you cross train, you will need to create a separate cross-training entry for the same day in addition to running:

Enter your x-miles in the first (main) box under "General workout details,"
and describe what you did under "Activity Comments."
The "count" farther down in the Cross Training section is for your own records (e.g., how many push-ups you did that day), but it is not included in weekly volume computations.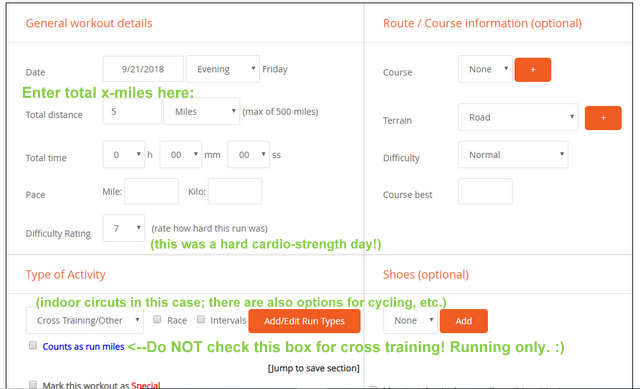 When entering or editing, be sure to click Save this run at the bottom of the page.
Then check the Nighthawk Athletics team Quick View tab for the correct date to make sure you appear on the team log and get credit for your workout!
* * *
Let us know if you have questions. Thanks for logging!
Your Coaches
P.S. There is also a Running2Win iPhone app ($0.99, but we are NOT asking you to buy that, but it is handy) as well as a Running2WinLite iPhone app (free). R2WLite allows limited entry of workout data but no editing. You have to login to the website for that.
P.P.S. To log other activities (non-x-miles for hiking, weightlifting, dancing, walking, pickleball, lawn mowing, landscaping, farm chores, etc.): On your daily log, scroll down to the Cross Training area and the specific "Cross Training Activity" section. There you can select from the drop-down menu (or add your own) and enter your notes so that the system will handle it correctly.