Openings
FALL REGISTRATION HAS CLOSED.
There will be openings to our spring term. Registration will be in early December. To be kept up to date, join our mailing list.

Scroll down to see the classes we are offering this fall.



When does HCCE meet?
We meet Mondays from 8:40 a.m. to 1:00 p.m. Sessions last 11 weeks in the fall and 12 weeks in the spring.
Where does HCCE meet?
HCCE meets at a church in the Casino Road area of Everett. Exact location will be provided upon registration.
How does HCCE work?
We are a parent taught co-op, which means parents sign up to teach classes. We split up the kids into groups by grade and each grouping has at least 3 class options for each period (there are 3 class periods and a lunch period).
How are you handling Covid?
We are following all local mandates. Please see our Covid and Mask Policy to see our most current requirements.
How much does it cost to attend HCCE?
Currently our Membership Fee is $81.00.
Membership Fee includes;
Facility usage fee of $70. This is paid each term.
Background check fee of $11. This is paid every 2 years.
For a new member, the initial cost will be $81.00, however, as long as our facility costs do not rise, every term thereafter would have a Membership Fee of $70 with the background check fee being added in every 2 years.
Additionally, there are class fees which can vary widely. As we are a parent taught group, we try very hard to keep costs reasonable and low for all. Most class fees range between $3-$15 per class (3 classes per child per term). However, we do attempt to provide at least one free class in each level for each period. Some classes may require additional books or supplies. All this will be listed in each class description.
Who can attend HCCE?
HCCE is intended for families with homeschool students who are at least Kindergarten age (minimum 5 years old as of September 1st). Babies, toddlers, and preschoolers are welcome to attend provided an older sibling in K-12th is enrolled as well. This rule exists to make sure homeschooling families who have older and younger kids are able to register their entire family. HCCE is not designed to function as a nursery or preschool option. Classes for those ages are provided as a courtesy so that families with school age children and young children can more easily attend.
As our name states, we are a Christian community and do ask our members to accept the statement of faith as part of the membership process.
Statement of Faith
HCCE believes:
Bible. We believe that the Bible is the Word of God, without error as originally written. Its content has been preserved by Him and is the final authority in all matters of doctrine and faith—above all human authority. (John 17:17; 2 Tim. 3:16; Heb. 4:12; 2 Pet. 1:20–21; 3:15–16)
God. We believe there is no God but one: the infinite Designer, Creator, and Sustainer of all existence in this or any universe, from eternity past to eternity future. God's nature is Triune, that is, three perfect and eternal persons—Father, Son, and Holy Spirit—who are one, in being and in purpose. (John 1:1–3; 8:23–24; 10:30; Col. 1:16–19)
Jesus. We believe that God the Son entered the world as a man to die on the cross on our behalf. He lived and died as a sinless sacrifice in full payment of all our sin—both past and future—satisfying the demand of God's perfect justice. Jesus rose from the grave, authenticating His divine identity as our living Prophet, Priest, and King. (John 1:1–3, 14; Isa. 9:16; Matt. 1:21–23; Heb. 1:1–3; 4:14–15; 10:10–18)
Forgiveness. Based upon the penalty paid at the cross, we believe that the forgiveness of sins is granted by grace alone to those who receive it by faith alone. It must be received as an utterly undeserved gift or it cannot be received at all. All credit and glory are Christ's alone. (Isa. 1:18; Rom. 3:20–28; 4:16, 22–25; 6:23)
What if we can't attend every week?
Every adult is utilized in the running of HCCE every week, either as teacher, class helper, or floater. Additional duties as lunch monitor and cleaning are also assigned. Due to the involvment of every parent, we ask that families have no more than 2 planned absences per term. If you expect to regularly be late or miss days, our group is probably not a good fit for your needs.
Our Purpose
The purpose of HCCE is to aid and support the families of homeschooled children. We believe it to be the parents' responsibility to train their children in a godly manner and therefore fulfill the scriptures of Proverbs 22:6 and Deuteronomy 6:5–9. We seek to provide an atmosphere that will foster this training and that will glorify the Lord Jesus Christ in all we say and do.

We also believe the HCCE experience is just as much for the moms (and dads) as it is for the kids. We strive to create and maintain a family experience that encourages and uplifts one another in our individual homeschooling journeys.
HCCE meets on Mondays in the fall and spring to offer three periods and lunch in a classroom setting. Classes are taught by the parents who have attended at least one prior term. Non-teaching parents remain on site to assist the teachers and students.
Our group is for the whole family; no sitter is required as we have nursery and preschool rooms for your family members who are not of homeschool age. However, you must enroll at least one child who is school aged in order to attend. Please see our Statement of Faith & Policies for more information. Join our mailing list for upcoming enrollment or visitor day opportunities.
Fall 2021 Class Offerings
For Fall 2021, HCCE is offering a condensed 2 period schedule. We plan to resume our normal 3 period with lunch/recess in Spring 2022.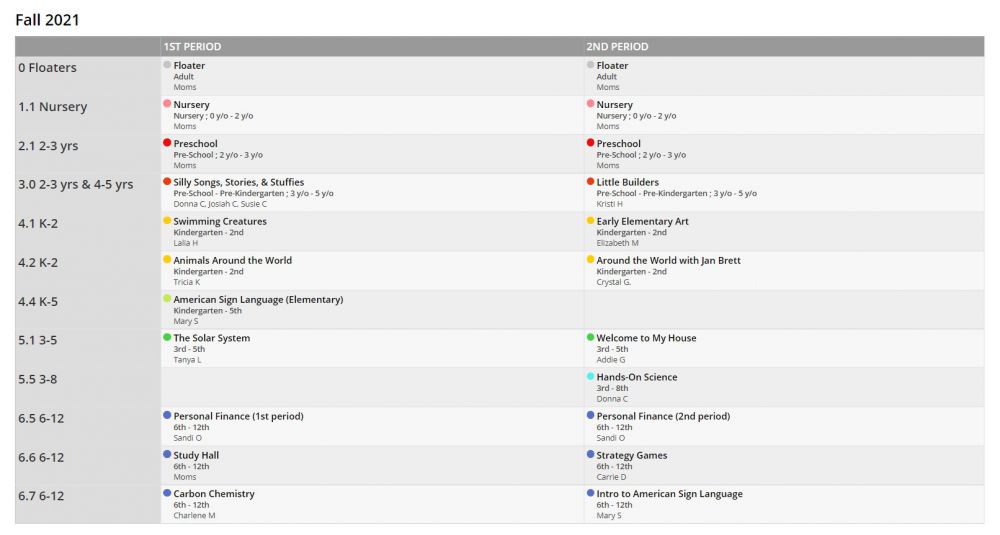 ??????? Nothing to see here.