Summer Study
Dates: June 15, 22, 29 July 6, 13 and 20* (*Even if you can't make all the meetings, please come when you can!)
Time: 7:00 - 8:30 pm
Cost: $10 for the participant guide
Location: DeWitt (RSVP for location details)
Childcare: Childcare will be provided by CHESS high school students. Please include the number of children you will be bringing when you register.
RSVP: Register HERE After you have registered, please use the Checkout Form on the "In the GYM" page for the participants guide. Only complete the Checkout Form once.
What if one of God's primary intentions for you as a parent isn't about successfully raising perfect children, but about you becoming more holy? In Sacred Parenting Gary Thomas illustrates how God can transform lessons in raising children into opportunities to grow in the image of Christ.
This study will help you and your group, rediscover parenting from a different perspective: as a method of spiritual formation expressly designed by God to shape your soul in ways you could not imagine! It will help you dig deeper into learning how God can transform dirty diapers, toddler tantrums, and a teenager's silence into occasions for becoming more like Christ.
Sessions Include: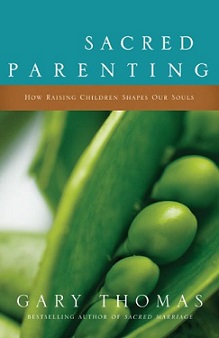 1.The Soul-Transforming Journey of Parenting
2.God-Centered Parenting
3.The Hardest Hurt of All
4.Embracing Our Insignificance
5.Walking on the Wild Side of Parenting
6.The Gold Behind the Guilt