Susana Brown
Susana Brown
Kristina Healy
Kristina Healy
Hey there! I'm Kristina Healy and I am filled with excited expectation for the upcoming school year! Throughout my childhood I dreamed of being a "play teacher" and I practiced by "directing" the neighborhood kids, writing skits and digging through dress-up bins for the summer's clothesline curtain debut! When I left college to get married and move to California, I felt I had unfinished business. However, God had a unique plan for my life, with many travels and three little girls at home, He called me to homeschool. I was quite reluctant at first, but homeschooling my daughters became my life's greatest joy and opened doors for me to teach theater arts in the homeschool community. Most recently I concluded 10 years of directing the theater arts program for Learning Station homeschool co-op. I love having a front-row seat to watch God work in a child's life, bringing relationships, confidence and joy through creative expression and learning. I also love talking with homeschool parents, encouraging and sharing the journey with them!
I'm looking forward to being part of the teaching team, at Kingdom Homeschool Services!
When I'm not reading or gardening, I'm chatting with my clients at my studio salon or enjoying life with my husband, 3 grown daughters, 2 son-in-laws, mom and dog Maggi.
Heather Martin
Heather Martin
Greetings! My name is Heather Martin, and I'm thrilled to say this is my 24th year teaching. I have a passion for Jesus and helping children reach their potential. I love to challenge children to be curious and take chances when learning. I grew up in Doylestown, Pennsylvania, and graduated with a bachelor of Science in Education from Bloomsburg University and a Master of Education in Curriculum and Instruction from Wilkes University. I hold a Pennsylvania Level II teaching certificate in elementary education. I began my teaching career in Prince George's County School District in Maryland teaching 2nd grade. I eventually moved back to PA to start the Elementary Spanish program at Lancaster Country Day School. I then joined Manheim Township School District to teach 1st grade in the Spanish Immersion Program. Recently, I taught first grade (English) at Lititz Area Mennonite School. This year I am honored to teach and partner with Kingdom Homeschool Services. When I have a moment of free time, my husband and I enjoy biking, hiking, reading, teaching Sunday School at Ephrata Community Church, and spending time with family.
Angie Harnish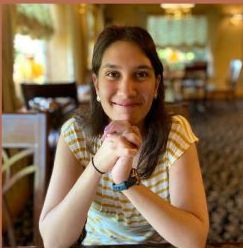 Angie Harnish
Hi all! I'm Angie. My husband, Jeremey, and I live in Ephrata, and we love seeing children learn who they are in Christ. I am currently puruing my bachelor's degree in Teaching English as a Second Language. Over the summer, I work full time at Refreshing Mountain as the cafe manager.