COVID 19 - Coronavirus - Updated March 25
~ WEST Classes Continue Online ~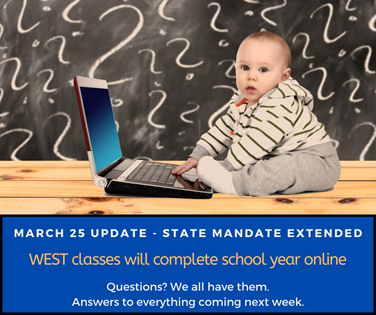 MN Reporting
"Minnesota law does not specify how home educators should write their annual report, only that it is due by October 1 each year and certain information must be communicated. MÂCHÉ encourages you to use one of our forms or to write your own letter instead of any documents a local school district may send because those usually are, to some degree, in error. Do not set precedent by reporting more information than the statute specifies."
Click HERE for the Annual Reporting Forms from MACHE, print off, complete, mail in to your local school district by October 1st of every year. Students ages 7-17 by October 1 must be reported.
Make a copy for your personal records
WEST Steps!
2 STEPS:
First: Request Annual Membership
(existing members must apply every school year)
Opens May 1!


Second: 5th-12th Grade Registration
Opens June 3 @ 8:00 am!
Returning PSEO Class Registration | New PSEO Class Registration
Opens May 1 Opens May 14
2019-2020 Class Schedule
(updated 09.09.19 / subject to change)
2019-2020 PSEO Class Schedule
(updated 12.09.2019/ subject to change)
3 Days / 2 Locations
Mondays & Tuesdays: Maple Grove Lutheran Church | 9251 Elm Creek Blvd N | Maple Grove
Tuesdays & Wednesdays: Church of the Open Door | 9060 Zanzibar Lane N | Maple Grove
WEST is a 501c3 that sets the course for educational success through quality tutorial-based classroom instruction,from a Christian perspective, to home-educated students in grades 5-12 and PSEO students within a community setting