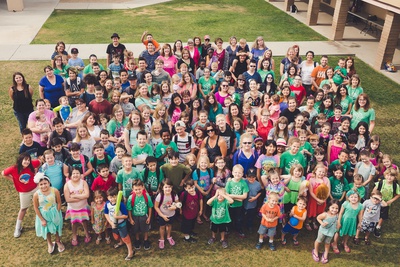 Branches West Valley meets on Fridays at Desert Hills Church in the north west valley of Phoenix.
We need you! Our class schedule is in progress. We are looking for people who love God and love to teach. If you are passionate or love a certain subject and would be willing to share it with a group of children, please contact Darlene Medeiros darlene@brancheswestvalley.org.
What is Branches? Branches is a brand-new Christian homeschool co-op community that offers academic and enrichment classes, sports activities and clubs, once a week to families in the metro Phoenix area. We do this through a co-op model, where each family contributes in some way.
We meet at Desert Hills Church once a week on Friday mornings. Desert Hills Church is located on the north side of Greenway Rd just west of 35th Ave, see map. You sign up and pay for classes by semester. There are two 14 week semesters; one in the Fall and one in the Spring. A variety of enrichment and academic classes are offered. Parents are required to stay on campus, sign up for "jobs," and participate in whatever area they are talented in.
Ages supported? Babies through High School, We offer many different classes and activities for many ages of children. We hope to create an environment where the whole family can participate in some way.
What classes do you offer? Click on the Class Registration link to see what was offered during Spring 2017. The tentative Fall 2017 schedule will be up soon. Class prices are by semester. Class Registration will be in early August and classes begin Sept. 8th. We are actively seeking teachers! Please email darlene@brancheswestvalley.org if you have an idea or questions about teaching.
How do I sign up for parent "jobs?" This is a true co-op where everyone helps out. On the Class Registration page there will be a child class schedule along with a parent job schedule. After you are a member you will be able to sign up for your parent jobs the same way you sign up for classes for your children.
(Periods Child(ren) Attending/Adult Credits Required):
- 1 Period: 2 Credits
- 2 Periods: 4 Credits
- 3 Periods: 6 Credits
- 4 Periods: 8 Credits
Here are examples of the job credits:
| | | | |
| --- | --- | --- | --- |
| 1 Credit | 2 Credits | 3 Credits | 6 credits |
| Floaters | Class Helpers | Teachers | Teachers for Mini - Branches |
| Substitute Cleaning | Snack Bar Helpers | Party Day Planners | Snack Bar Leaders |
| Substitute Set-Up | Party Day Helpers | Cleaning Helpers | Cleaning Leaders |
| Check-In Table Set Up or Tear Down | Security | Snack Bar/ FH Set-Up or Tear Down | Floater Coordinator |
Please see our About Branches page and FAQ's for more information.
We would love to have your family join our community!