SHINE 2020 Prom
Add to Your Calendar:
07/31/2020 19:00
07/31/2020 23:00
America/Chicago
SHINE 2020 Prom
SHINE 2020 Prom
Pezold Banquet Center
SHINE St. Charles
shinestcharles@gmail.com
false
MM/DD/YYYY
aUinrLWZczwYavqgBmQP30959
Date – Time
July 31, 2020 – 7:00 PM - 11:00 PM

Location
Pezold Banquet Center
5701 Highway N
Cottleville,

Additional Information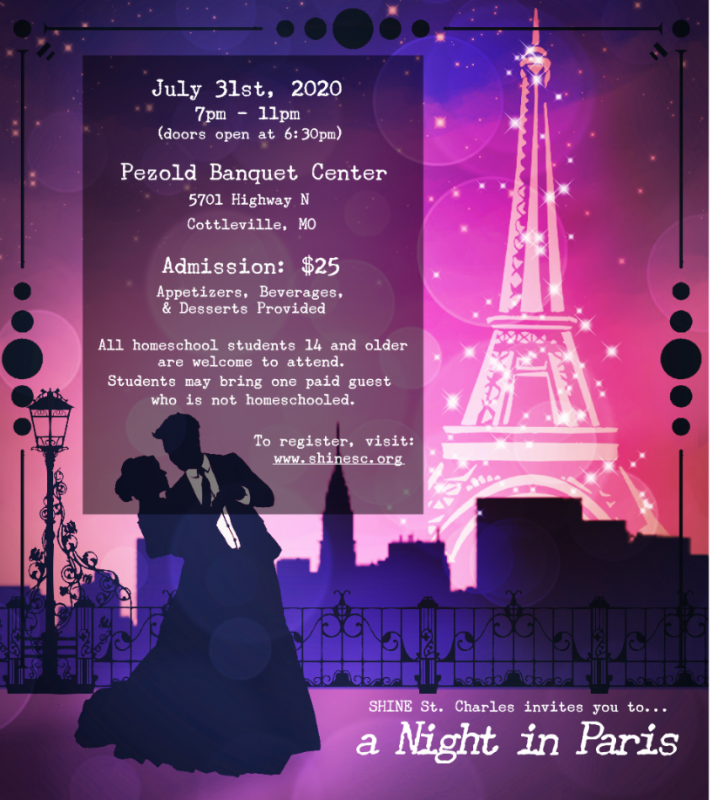 REGISTRATION DEADLINE: JULY 24th
**SHINE is not responsible for students who choose to leave the dance early**
This dance is for all homeschoolers 14 and older. Each registered student is allowed to bring one paid non-homeschooled guest. For those attending SHINE St. Charles dances, please review the following guidelines and dress code. If you have any questions concerning specific dress code guidelines and/or would like feedback regarding a particular outfit in question, please email SHINE at info@shinesc.org. A picture of the outfit in question is welcome and recommended to help determine if it meets the specified dress code. All guests attending that are not in compliance with dress code and/or display inappropriate behavior will not be admitted to the dance and/or asked to leave with
no refunds issued.
COVID -19 precautions:
Both sides of the banquet center have been reserved for this dance to give students more space to distance.
Food buffet will have servers to serve the food, instead of students serving themselves.
Tables will seat 6 instead of the normal 8 seats.
Temperature checks along with health check list to be done at the door.
Masks are not required, but welcomed for those who prefer to wear them.
DRESS CODE:
**All attendees should dress for the formality of the occasion**
Girls:
Minimal to no cleavage should be seen
No thigh high slits (at or below fingertips recommended)
No bare midriffs
No revealing cutouts in the chest or side areas
No plunging necklines
Guys:
Dress pants, dress shirt and tie
No jeans
No athletic shoes
Students ARE NOT required to be a member of SHINE to participate in the dance.
To register please follow the steps below:
1. Click on "sign up now" tab below
2. Complete general sign up information
3. Submit sign up information
4. Submit payment
If you have any difficulty or questions registering, please feel free to email us
at info@shinesc.org and we would be glad to help.
Signups
Signup is currently closed.
The Signup Deadline for this event was 7/27/2020 – 12:00 AM CST