HAHA Homeschool Used Curriculum & Resource Fair
Date – Time
April 30, 2022 – 9:00 AM - 2:00 PM

Location
Christian Life Assembly, Camp Hill
2645 Lisburn Road
Camp Hill, PA 17011 US

Additional Information
Homeschool Curriculum and Resource Fair

Date: Saturday, Apr 30, 2022
Time: 9:00am - 2:00pm
Ages: All Ages
Cost: $10 HAHA Member Family; $20 Non-member family: Pay at the door as well
Location: 2645 Lisburn Rd, Camp Hill
Sign Up for Family Admission: Click here
Contact: Aimee Jones [email protected]

Join us at Christian Life Assembly in Camp Hill for the HAHA Homeschool Curriculum & Resource Fair! The fair provides homeschooling parents a place to sell their used curriculum & books. We will also have local businesses, organizations, schools, and co-ops that support the homeschooling community available to speak with you about opportunities for your children. The first 100 families that attend will get a bag full of curriculum goodies!
This year we will include our Homeschooling 101 workshop for those new to, or considering, homeschooling so pass the word! We will have speakers scheduled every 1/2 hr as well as stations set up with information and people available to answer questions. Current speakers include: Messiah University's Cybersecurity guru; Jocelyn Goranson - Balancing Homeschool & Career; Linda Blocker - diploma programs; Rachel Hess - a homeschool success story; and many others. The schedule for the speakers will be published when it is finalized so check back often!
HAHA is also participating in the PA Game Commission's Seedlings for Schools. We will be handing out a free seedling for you take home (1/student or 1/family if only an adult is in attendance) and you will have your choice of a White Spruce or a Silky Dogwood. We only have 150 seedlings available so it will be first come, first served. A teacher's guide, student pages and planting instructions are found on the Game Commission's website at https://www.pgc.pa.gov/InformationResources/GetInvolved/HowardNursery/Pages/Seedlings-for-Schools.aspx
Pizza will be available for purchase by the slice over the lunch hour.
We are up to 25 vendors and we're so excited. Come see what Central PA has to offer your homeschooler.
Confirmed Vendor List:
Amazing Sports Activity
BJU Press Homeschool
Camp Hebron
Central Penn College
Chick-fil-A Lindle Road
Code Ninjas
Eastern University
HACC
Harvest Homeschool
House on a Hill Education
i9 Sports
Jubilee Cake Studio
Keystone FC
Keystone Kidspace
Ladies of Justice
Latty Design House
Magnus Robotics
Mama Knows Money
Market Square Concerts
Messiah University
PA Family Institute: City on the Hill
Pennsylvania Homeschoolers Accreditation Agency
Precision Chiropractic Dr. Michelle Momose
Smile Haus Pediatric Dentistry
Strawberry Hill Nature Preserve
Usborne Books and More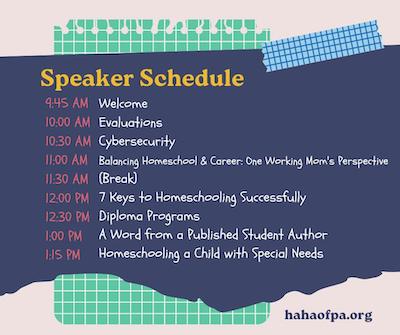 Signups
Signup is currently closed.
The Signup Deadline for this event was 4/30/2022 – 6:00 AM EST