---
About Class Days
Eastside Explorers

(EE) hosts enrichment classes for its members by sharing experienced tutors for our children. EE tutors act as class leaders and facilitators for all classes, including any classes in subjects the parent is required to provide according to Arizona Homeschool Law in reading, grammar, mathematics, social studies and science. (Reference: Ariz. Rev. Stat. Ann. § 15-802(A))
Second Semester begins on January 6, 2020 and are held on Mondays near 60th Street and Greenway Rd (Immanuel Bible Church).
A Per Semester Facility Fee ($35) is due at the time of registration to secure your child/ren's spot(s). This covers your entire family for the semester.

Our Semesters run: (1st Semester) Sept.- Dec. and (2nd Semester) Jan. - April.

Classes may be paid in full by semester or as a monthly option.

A minimum of Class Supply Fee + first month's tuition is due at the time of registration. Remaining months must be paid to teacher two weeks prior to a new month. Spring registration opens in Nov.

By registering your child in a class, you are agreeing to be contractually obligated to pay for the entire semester.
---
What are Enrichment Classes?
Enrichment classes are supplemental opportunities for families to experience learning with other Homeschool students and tutors. Most of our classes incorporate hands-on learning, exploration, experiments/projects, and opportunities for group discussion.
Classes are the perfect tool to use as a springboard for your child's learning throughout the rest of the week. Our classes are offered solely as enrichment and are not meant to supplant the core parental instruction that is required to be provided, especially in reading, grammar, mathematics, social studies, and science.
A tutor will introduce a new concept on Monday, review previous concepts, may go over assignments and give instructions on how to use the rest of the week to complete his/her assignments. Parents and students can easily communicate with tutors to make sure students are kept on track at home. Your child's class time on Mondays serves as a launchpad for the rest of the week making it easier for you to navigate their work.
Our enrichment classes each have an experienced tutor (majority with degrees and experience in classroom teaching) and at least one other background-checked adult on campus.

The class tutor is not considered to be the "teacher" in the usual sense of the word although this term is conveniently used. Our co-op class tutors are considered class facilitators, discussion leaders, activity leaders, and/or leaders.

The goal of the enrichment class days is to offer a rich variety of classes, and make them as financially accessible as possible so that families benefit from the social, academic, and enrichment opportunities.
---
Benefits of Enrichment Classes
Experienced tutors - Affordable, experienced tutors who teach all of our classes and put tons of time and love into making sure your child is getting the most of the class
No prep, no teaching

required from parents. You can drop-off and enjoy your time while your child is being taught in a safe, loving environment.

Small-group setting that promotes confidence and builds friendships while allowing content to be individualized
Teaches accountability and time management - Students gain experience in completing assignments/tasks in a timely manner and for a group purpose
Creates independence and builds confidence

- Students will learn how to work alongside other non-family students in an educational setting and with an amazing class leader. This safe environment allows them to take leadership roles, express themselves and to grow in new ways!

Curriculum Pace Set for you- Tutors will introduce concepts/material in class and will direct students and parents in how to use the material throughout the remainder of the week. An easy-to-use online class forum gives students and parents access to assignments, suggestions and direct teacher communication. The goal is to use what is being taught in class as a launching point for the rest of the week's work.
---
What Classes are Offered?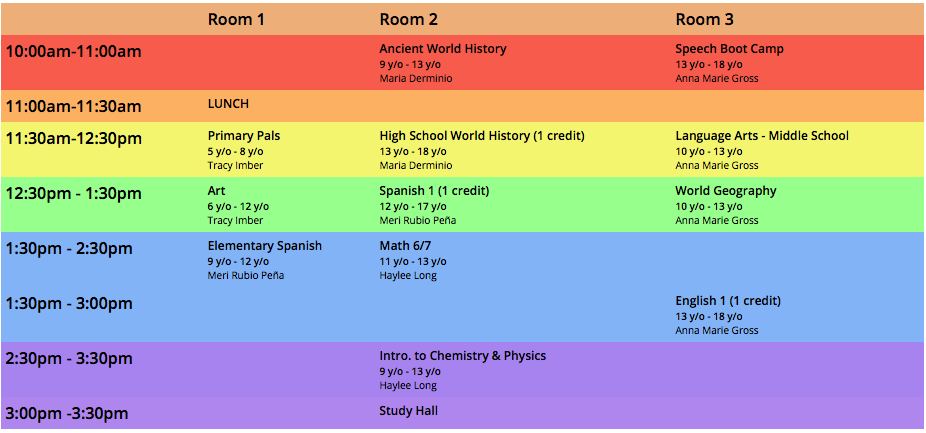 (Above image not compatible on mobile devices. Please click to enlarge and click on each class title for a description and info.)
---
How do I Register for Classes?
Current Eastside families register classes online HERE

and must pay Facility Fee, Supply Fee and first month's tuition fees in order to complete registration.

Families must read and sign our Class Policies, Procedures, Medical and Release/Liability Waiver upon class registration.

Please review our

FAQs

for answers to the most common questions.

If you have any questions regarding classes or need help completing registration and/or payment, please contact Rachael Porter at fieldtrips@eastsideexplorers.org or 480-766-8953.

If you are not yet a member of Eastside Explorers, we would love to have you

join us

for classes as well as

the many benefits of our group

!