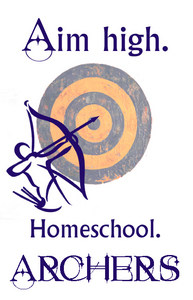 Accomplishing Welcome to ARCHERS!
Rich
Christian
Home
Education through
Relationships &
Support
Psalm 127:4 "As arrows are in the hand of a mighty man; so are children of the youth."
MEMBERSHIP
Applications for the 2016-2017 school year will be open May 1-June 15. No applications will be accepted until/after that date. If you are a Grace Church member, contact Harbene Zaleski at archersofgrace@gmail.com.
Upcoming open events for those considering homeschooling:
April 25: Homeschool How-To. This event explains the ins and outs of homeschooling for those that are considering it.
Held at Grace Church, Room 2, 6:30 pm.
May 10: Interested Member Meeting. This event is for those that want to know more about ARCHERS homeschool group and what membership in ARCHERS includes and requires. This meeting is not mandatory for those applying to ARCHERS, but it is quite helpful.
Held at Grace Church, Room 2, 7 pm.
June 13: Used Curriculum/Book Fair. Free and open to the public, this event has tables and tables of used curriculum and other educational materials for sale. Bring bags/totes/wheeled carts and lots of cash!
Held at Grace Church, Activity Center, 6-9 pm.