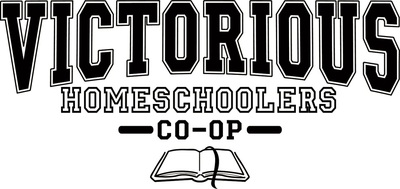 Victorious Homeschoolers Cooperative is a Christian faith based, nonprofit organization created for the purpose of giving children the opportunity to interact with other homeschooling students, so that they might learn about the world around them in ways that are better taught in a group setting or by an expert in a particular area.
Our desire is to create great friendships and unity for our families -- to provide a place for members to have fun, learn, play, and ultimately grow together through the years.
In addition to regular classes, Victorious Homeschool Co-op offers a variety of activities like field trips, spirit days, end of the session showcase, group activities, and much more. All of this happens because of the volunteer efforts of our awesome members. This is a true cooperative, and the only way we can keep all of our activities running smoothly is for each member family to volunteer their time and efforts toward the goals of the group.
We require each family to teach a class each semester, and to offer support to other teaching parents as a co-teacher. As a result of this policy, we're able to offer classes at cost, beginning at just $3 per class. A sampling of previous class offerings follows: Think outside the Box, Silly Science, Read between the Lines, Creative Writing, Sewing, P.E., Tap Dance, Art, Itty Bitty Book Club, Hands in Action, Music, Messy Concoctions, K-nex, Snap Circuits, Weather Kids.
Families have an opportunity to meet and chat with other co-op members before classes begin and during breaks. We also offer field trips, home gatherings, field days, and other social events, to give families the opportunity to spend time in fellowship with one another.
To request membership to Victorious Homeschoolers Co-Op, please click "Join" at the top of the web site home page.