Books by HCH Fams
Books by HCH Families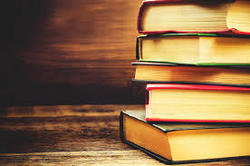 Henderson Christian Homeschoolers likes to tout the accomplishments of its members!
These are books written by current and past members (listed alphabetically) of our HCH Families with links to their books on Amazon:
My Favorite Day To Homeschool by Maggie Alvarez
Without Consequence by Phelicia DeRosier
The Hunted Past by Myriah Grabish (illustrated by Sonora Woodrum)
The Cry of the Lost by Myriah Grabish
How the City Fell by Katelyn Prince
The Art of the Patent by Kevin Prince
Your Appointment: Door We All Must Pass Through by Frank Rendla
Jesus' First Command: What is Necessary For Eternal Life by Frank Rendla
Bougainvillea by Elizabeth Quinones-Zaldana
If you have published a book not on our list, we would love to add it. Please let the HCH web admin know!