Welcome to the Official site for the Perry County Homeschoolers
We are a Christian, non-profit, volunteer ministry committed to giving information, guidance, support and encouragement to homeschooling families in Perry County and surrounding counties. We believe God, in His Word, has given parents the authority and responsibility to educate their children in a godly manner. We seek to nurture each parent and child within the group and without. While we do not require that members be Christians, members should be respectful of our Christian Beliefs.
Homeschooling is a great way to teach your children while instilling them with morals and family values.
Support Group Policies:
Membership dues are currently $15.00 per family for a full school year. Anyone requesting membership will be given such through August 31, 2022.
A Mandatory meeting is generally held in June to plan the upcoming school year and collect dues.
Members are expected to participate in at least one activity by volunteering to coordinate or serve in an event or activity. New Members receive a one year grace from service.
We encourage you to become a member to receive the full benefits of the group. Feel free to contact us at [email protected] for more information.
If you would like to join, please click on the picture below.
Homeschooling Highschool: You Can Do It! "Mini-Workshop"
"Highschool" - that word strikes fear into the bravest of homeschool moms. Credits, PA Requirements, Transcripts...
It may seem daunting, but it doesn't have to!
If you are the parent of a middle schooler or high schooler (or even upper elementary - those years will be here before you know it), please join Perry County Homeschoolers support group for another "mini-workshop"
Homeschooling Highschool: You Can Do It!
Again, featuring Bonni Greiner, creator of mombyexample.com blog, author or multiple books, and guest speaker at events including last year's CHAP convention.
Bonni will be joining us live via Zoom.
She will discuss homechooling highschool in PA (including how some requirements needed for graduation can be met in 7th/8th grade) and will hold a live Q&A for those in attendance.
Monday, April 4, 6-8pm
Blessed Hope Bible Church
9 Witmer Road, Liverpool PA, 17045
$3 - PCHS Members
$5 - Nonmembers
Everyone welcome. Payment at the door.
Pre-registration is required. Register by April 2. Click the photo below, or the tab in the website menu selection above.
An assortment of free homeschooling literature and brochures will be available. Attendees will receive a list of prominent diploma programs in the state of PA with their corresponding contact information, and the guidelines for each of these programs will be on display, available to view that day.
For those who may choose the parent issued diploma option that PA allows, or for anyone interested in how transcripts are recorded, we will have printouts available on how to create a transcript, with a transcript template attached.
Beverages will be provided.
Let PCHS Help You Make the World Your Classroom
Overview of PA Homeschool Law
January
The following is a snapshot of our January calendar which will fill quickly. Members have access to the full calendar including details and sign-ups.
February
The following is a snapshot of our February calendar which will fill quickly. Members have access to the full calendar including details and sign-ups.
SchoolhouseTeachers.com
Give yourself a Fresh Start in 2022. Whether you feel like you have been sailing along in your homeschooling journey and are just looking for new content to add to your collection or you are ready for a complete overhaul, SchoolhouseTeachers.com has what every homeschooler needs! With over 400 PreK–12 courses, streaming videos, resources for parents, and activities for children of all ages such as storytime and a virtual art and photography fair, there is something for everyone. New courses and content will also be added throughout 2022 such as Korean, Calculus, Psychology, and an updated Microsoft Word course.
Now is the time to grab the super low rate of $175.50/yr on an Ultimate Membership (PreK–12) with code: FRESHSTART before the price increase to $269.97/yr on February 1—a savings of over 65% off of the new pricing. This special rate covers the entire family for the life of your membership. Sign up now and you'll also receive a complimentary tote shipped directly to you (publisher's choice, US only).
If 2022 will be your first year homeschooling, then be sure to take a look at the convenience of the SchoolhouseTeachers.com School Boxes. Using courses from the SchoolhouseTeachers.com platform, these virtual boxes provide all the content you need for the entire year for grades K–12! If you take a peek into the Grade 5 School Box, you will find the following:
Steaming ahead with Fifth Grade Math

Two science courses to choose from, including a physics course

Several language arts components including Creative Composition

Art and music options

And more!
If you prefer to create your own course list, then you have over 400 courses to choose from, including all core disciplines and a wide variety of electives. Videos, recipes, support, and parent resources are all included in your membership. Sign up now before the price increase on all memberships in February!
New members only. Sorry, no refunds. Totes are US only and publisher's choice.
TOS Magazine
You just may be educating a future entrepreneur or a writer, a financial manager or a lawyer, a veterinarian or a teacher. While you're homeschooling and preparing your kids for their futures, stay encouraged and inspired with a subscription to The Old Schoolhouse® Magazine. (You'll spring for this—our regular subscription price is discounted for you right now during our presale!) Perhaps you are raising a child who is fascinated with birds and working with them will suit him or her. Our upcoming issue features various career paths, as well as articles on nature studies and insects to get you thinking "spring." It also explores why so many homeschoolers are entrepreneurs and contains advice to help you raise a lawyer. This issue includes language arts topics like phonics, grammar, reading, and becoming a fine writer. (Writing—there's a skill that any career will benefit from!)
Here are some other highlights to dig into inside the Spring issue of The Old Schoolhouse® Magazine:
middle school math as a bridge to higher learning

the Charlotte Mason method

the wars of history and what we learned from them

building an herb garden

finances, money management, and investing
You'll find a resource guide on reading, writing, and grammar, and another resource guide dedicated to homeschool helps. PLUS, don't miss some great tips on how to create an inviting schoolroom!
You can depend on The Old Schoolhouse® Magazine to deliver encouragement and ideas to refresh you and energize your homeschool. Save on a one-year subscription by pre-ordering today! You'll be delighted with each quarterly delivery. Visit Homeschool-store.com and order by January 31 to take advantage of the presale which gives you a discounted one-year subscription rate of $26.10 (US) or $44.10 (INTL). Just like spring, our Spring issue will be arriving soon. Subscribe now so you don't miss a thing. What a wonderful way to save while keeping homeschool inspiration arriving all year long!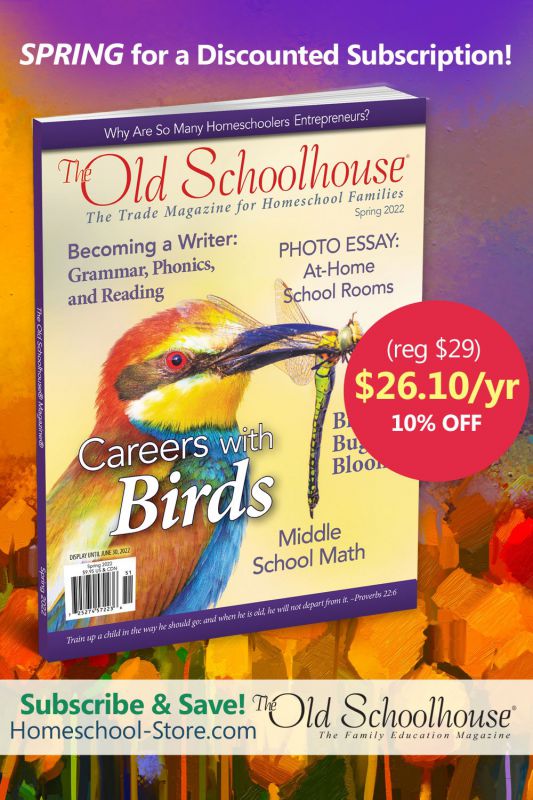 PCHS Quarterly Clothing Drive
Got Clothing?
Clean out your unwanted/outgrown clothing while helping PCHS at the same time!

PCHS has joined a virtual partnership with Community Aid. Although we no longer have a physical donation bin, we will be collecting clothing donations which will be purchased by Community Aid to benefit our support group on a quarterly basis!

These drives will occur the first Friday of March, June, September, and December. I will coordinate a meeting place (for example, Giant parking lot) based on the number of those with clothing to donate. Or if you will be seeing Janel Martin or Diamond Hile at a function within the two weeks prior to the drive date, you may give your donations directly to them.

Please keep shoes bagged separately from clothing.

Do you suddenly have a large amount of clothing to get rid of, or did your children all simultaneously grow out of their clothes in between scheduled drive dates? If a drive is not scheduled to occur soon, contact me directly at [email protected] and I can coordinate a time and place to get your donations.
Support PCHS with the BoxTops4Education Program
Support PCHS with your normal grocery shopping!
If you already have a boxtops account, you can now change the school group you are supporting to PCHS.
If you are new to boxtops, you can choose to support PCHS right away, but first contact me to ask for a referral code. Each time someone new signs up for the boxtops app, PCHS gets a bonus if you use the referral code I can send you.
Click the photo below to email PCHS and request a referral code so you can signup and help support our group.
HSLDA
We recommend that homeschooling families join HSLDA.
Even if you never experience legal trouble yourself, your HSLDA membership will help enable other homeschooling families to get the legal help they need and will help defend our right to homeschool here in central PA.
Membership in HSLDA also gives you personal access to the legal staff; HSLDA's experienced high school, special needs, and Toddlers to Tweens consultants; and discounts through HSLDA's PerX program.
PCHS members SAVE $15 on the HSLDA membership price when you enter our Discount Group code on the HSLDA membership form!
HSLDA Member Benefits