Welcome to the Official site for the Perry County Homeschoolers
We are a Christian, non-profit, volunteer ministry committed to giving information, guidance, support and encouragement to homeschooling families in Perry County and surrounding counties. We believe God, in His Word, has given parents the authority and responsibility to educate their children in a godly manner. We seek to nurture each parent and child within the group and without. While we do not require that members be Christians, members should be respectful of our Christian Beliefs.
Homeschooling is a great way to teach your children while instilling them with morals and family values.
Support Group Policies:
Membership dues are currently $15.00 per family. This fee will give you membership from now through August 31, 2023.
A Mandatory meeting is generally held in June to plan the upcoming school year and collect dues.
Members are expected to participate in at least one activity by volunteering to coordinate or serve in an event or activity. New Members receive a one year grace from service.
We encourage you to become a member to receive the full benefits of the group. Feel free to contact us at [email protected] for more information.
If you would like to join, please click on the picture below.
NAHC
The Old Schoolhouse® is pleased to announce the first annual National Academic Homeschool Competition for homeschooled students ages 12-18 seeking to put their knowledge to the test on a national level. Pay only $110 to participate in this exclusive virtual event for homeschoolers. Prizes will be awarded. Note: SchoolhouseTeachers.com members pay half-price (only $55). Register today at NAHCRegistration.com.
The Old Schoolhouse® is pleased to announce the first annual National Academic Homeschool Competition (NAHC) for homeschooled students. Is your child seeking to put his knowledge to the test on a national level? Register now to start prepping for the 2022–23 NAHC event.
NAHC TIMELINE




October 1, 2022– February 15, 2023:
Practice Tests Are Available to Registrants

November 1–15, 2022:
Level One

November 22, 2022:
Level One Results Are Published

February 1–15, 2023:
Level Two

February 22, 2023:
Level Two Results Are Published

April 17–20, 2023:
The NAHC Championship

April 24, 2023:
Championship Results Are Published



Homeschoolers pay only $110 to participate in this exclusive virtual event. Member bonus: SchoolhouseTeachers.com members pay half-price (only $55).
This low cost includes:

A reserved spot in the NAHC online event
Access to practice tests (beginning October 1)
Total College Success—A complete guide for getting into, paying for, and succeeding in college ($75 value)
Zero Hour Threat—An interactive game that prepares students for the SAT and ACT, while increasing their knowledge of core subjects like math, science, and English ($30 value)
Want to learn more? Visit NAHCRegistration.com for a complete list of rules and details.
Let PCHS Help You Make the World Your Classroom
Overview of PA Homeschool Law
September
The following is a snapshot of our September calendar. Members have access to the full calendar including details and sign-ups.
October
The following is a snapshot of our October calendar. Members have access to the full calendar including details and sign-ups.
SchoolhouseTeachers.com
How's Your Homeschool Buzzin' So Far?
The buzz around the hive is there's a sweet deal flowing for new members. Unleash your Mama Bear and grab a SchoolhouseTeachers.com membership for your cubs today. Homeschooling is growing and so are the many resources available to SchoolhouseTeachers.com members. Access to several World Book libraries, complete with a massive amount of eBooks, is included with a single membership. Snuggle up with your cubs and read Black Bears by Gail Terp, a World Book eBook, or Grizzlies and Other Bears by M?eish Goldish today!
A World of Animals, college prep resources, Earth Science, Algebra 1, and hundreds of PreK–12 courses are easily accessible the moment you become a member—the affordable option of $39.97/quarter covers the entire family. Use coupon code: MAMABEAR22 at checkout today to unlock a world of resources.
Get your paws on thousands of pre-K and kindergarten hands-on printables immediately. Early learning resources, children's videos, School Boxes, and educational courses designed just for little ones are all available on day one. Exclusive events designed solely for members pop up throughout the year. Stay informed through the members-only Facebook group and email alerts, Join us today, and you are well on your way to a grrrr-eat school year!
TOS Magazine
Stress-free homeschooling? Yes, please! Find out how inside the fall issue of The Old Schoolhouse® Magazine. Plus, we're filling up the pages with even more topics you'll love as you fall into routine this autumn: technology, unit studies and science, teaching history through genealogy, loving literature, and what colleges want. Limited quantities. Grab your copy here: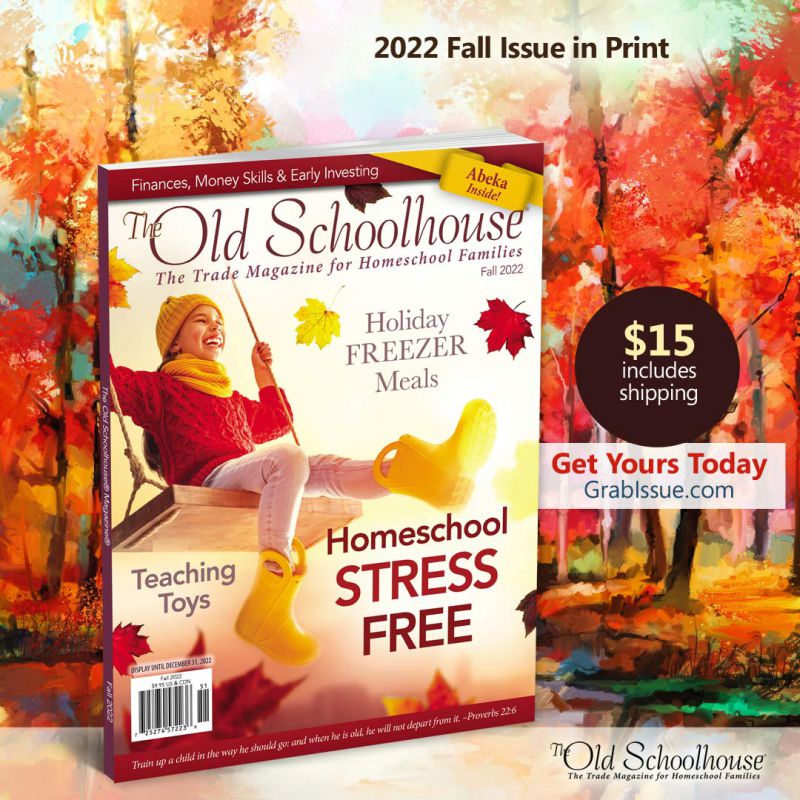 PCHS Quarterly Clothing Drive
Got Clothing?
Clean out your unwanted/outgrown clothing while helping PCHS at the same time!

PCHS has joined a virtual partnership with Community Aid. Although we no longer have a physical donation bin, we will be collecting clothing donations which will be purchased by Community Aid to benefit our support group on a quarterly basis!

These drives will occur the first Friday of March, June, September, and December. I will coordinate a meeting place (for example, Giant parking lot) based on the number of those with clothing to donate. Or if you will be seeing Janel Martin or Diamond Hile at a function within the two weeks prior to the drive date, you may give your donations directly to them.

Please keep shoes bagged separately from clothing.

Do you suddenly have a large amount of clothing to get rid of, or did your children all simultaneously grow out of their clothes in between scheduled drive dates? If a drive is not scheduled to occur soon, contact me directly at [email protected] and I can coordinate a time and place to get your donations.
Support PCHS with the BoxTops4Education Program
Support PCHS with your normal grocery shopping!
If you already have a boxtops account, you can now change the school group you are supporting to PCHS.
If you are new to boxtops, you can choose to support PCHS right away, but first contact me to ask for a referral code. Each time someone new signs up for the boxtops app, PCHS gets a bonus if you use the referral code I can send you.
Click the photo below to email PCHS and request a referral code so you can signup and help support our group.
HSLDA
We recommend that homeschooling families join HSLDA.
Even if you never experience legal trouble yourself, your HSLDA membership will help enable other homeschooling families to get the legal help they need and will help defend our right to homeschool here in central PA.
Membership in HSLDA also gives you personal access to the legal staff; HSLDA's experienced high school, special needs, and Toddlers to Tweens consultants; and discounts through HSLDA's PerX program.
PCHS members SAVE $15 on the HSLDA membership price when you enter our Discount Group code on the HSLDA membership form!
HSLDA Member Benefits