Financial Policies
Membership Fee
To facilitate the general expenses of ETC, we are asking all families to make a contribution each year with their membership.
$150 per NEW Family
$100 per PREVIOUS RETURNING Family in good standing
We are committed to being good stewards of our collective resources and welcome accountability. Annual Financial Reports are issued by the ETC Financial Director.
The annual fee is due at the time of registration or membership renewal. All payments are due no later than August 1st. Payments may be made by cash, check, or can be paid online.
Current Consortium Tuition and Fees Schedule
Sponsorship Program
As funds are available, ETC offers a sponsorship program to cover the annual fees for membership for those families in need. If you would like more information about being sponsored, or about donating to that fund, you can request it online during your registration. It is important to us that no one is turned away because of the annual membership fee.
Requests for membership sponsorship or tuition assistance will be submitted to the Board of Directors. As funds are available assistance will be prioritized for families who are experiencing temporary financial hardship and who are doing what their family is able to do to reduce their own costs through service. A representative of the Board will notify applicants of the Board's decision as soon as one is made.
In some cases a donation may be received with a designation for a recipient, in which case other criteria may not apply.
Donations
Additional donations to ETC will be tax-deductible. Membership Fees, Tuition, and Per Child Fees are not deductible, but any voluntary contributions will be acknowledged with a tax-deductible receipt. Please consider making the ministry of ETC a part of your charitable giving.
General Budget
ETC's budget includes the fundamental expenses that are necessary to make ETC function, including basic administrative costs, website membership, liability insurance, leadership sponsorship, and basic office supplies and postage, as well as minimal funding for the monthly ETC meetings.
Fee Payment Policies
Membership fee payments, regardless of payment method, must be RECEIVED no later than August 1st. If you have not paid by August 1st you will be removed from the list of members.
A simple, all-inclusive fee is charged for Consortium Classes. Please review the Consortium Information page for more details. Some activities, such as field trips or group parties, may incur additional fees.

Please note your name and the event for which you are paying with each payment. Envelopes are provided in the payment drawer in the Consortium Office or Check-In Desk. Payments must be received with the necessary information in order for your account to be properly credited.

If you need proof of payment, please pay with a check or money order or via online invoicing, since receipts will not be issued for Fees.

We cannot provide change.

There are no refunds for tuition, professional services fees, or materials fees after the final due date for that semester. Any request for refunds of tuition or activity fees will be reviewed by leadership and will be made at the leaderships' discretion.
Payment Options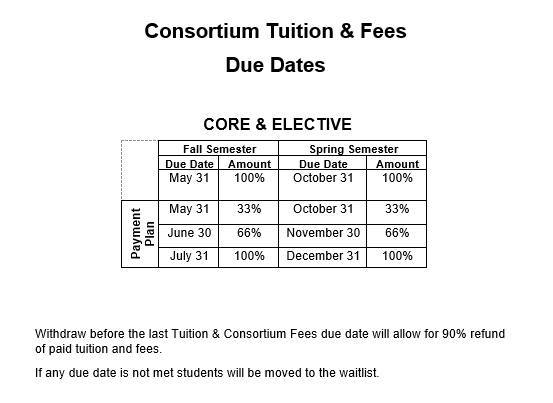 You will have the option of several methods of payment for all ETC fees.
Online: You may pay through your ETC account on our website. Online payments incur a convenience fee from our financial processing service provider.
By Mail: A check or money order can be mailed to ETC, PO Box 1757, Bentonville, AR 72712. Please include a note indicating what you are paying for.
In-Person: You may also pay with cash, check, or money order in person at Consortium. In the case of "in-person" payments, please put your payment inside an envelope and seal it. Then write on the front of the envelope your name, the amount, and a specific list of what you are paying for. You may put your payments in the payment box provided at the Consortium check-in desk. Please do not pay at other events.
Payment Plan: The only payment plan ETC currently offers is a Pre-Payment Plan. The entirety of Consortium Fees can be made in 1/3 installments by the following schedule.
Reminders about your installment due dates will not be sent; please take responsibility for paying installments on time. Contact the ETC Financial Director for more information.
Conclusion
The Financial Director, Event Coordinators, and Leadership Team Members are homeschooling moms just like you, and have a limited amount of time to devote to ETC business. Thank you for respecting their limitations by adhering to the ETC Financial Policies.