Surprised by the Blessing: Emily Oliver
Homeschooling is a hard, joyful, exhausting, fulfilling, maddening, exciting journey. Like anything you do as a parent, you have moments where you know you're making the right choices and moments where you question everything you thought you ever knew. One decision I don't question is joining Divine Mercy Homeschool Cooperative.
I started looking for a music class for my older two children because my daughter, in second grade at the time, wanted more friends. Luckily, a friend was teaching at Divine Mercy, and since the co-op is set up to allow parents to choose which classes their children will attend, I signed the kids up, not really knowing what to expect. What a happy happenstance! The kids really liked their classes, and I found a group of amazing families who share our love of God and desire to focus our children's education around growing closer to Him!
The families are lovely at Divine Mercy. The older kids and teens are gracious and caring toward the younger ones, the parents are involved and excited, everyone can discuss their faith openly, and the support from parents who are a little further along to those of us just getting started is wonderful and so encouraging. We are looking forward to many more years of participating in the Divine Mercy Homeschool Cooperative! It has been such a blessing to all of us!
A Wonderful Blessing: Margaret Brecount
This is our third year at Divine Mercy and it's been a wonderful blessing for our family. All five of our children participate, and I've also been a teacher at the co-op. My children look forward to Divine Mercy every week. They have grown in friendship with other children from terrific families. They have learned from teachers who have excellent backgrounds and formation. The fact that my husband and I are able to tailor our children's education by outsourcing some of their classes to specific teachers that we have been able to handpick has been refreshingly alternative. I would recommend this co-op to anybody in need of extra support for the mission of homeschooling.
So Grateful: Elizabeth Enders
My family has had the pleasure of being part of Divine Mercy for three years. I can't imagine my homeschool journey without the help of this co-op! I am so grateful for this co-op and the dedication of the tutors. They have a passion for our faith and a desire to educate with passion. Divine Mercy has not only lightened the sometimes heavy load of home educating my children but has ignited my own enthusiasm to teach my children with a clearer vision and path.
Invaluable Support: Gina LaJoye
Our family has had a wonderful experience with Divine Mercy Co-op. Not only do the knowledgeable teachers provide invaluable support for us, as parents, but the social environment has helped our kids cultivate solid, lasting friendships. It's also amazing to be able to choose from such a variety of classes. Thank you, Divine Mercy!
Answer to Prayer: Bridget Kaufman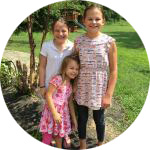 Divine Mercy has been an answer to my homeschooling prayers. As my children have grown and aged, their homeschooling needs have grown with them. One of my daughters needed to advance faster than I could keep up. The rigors of the Divine Mercy High School coursework have kept her busy with joyful learning among a happy, thriving group of peers. Another child, who was lagging behind slightly in a few areas of schooling, has responded with enthusiasm to the confidence gained by learning among encouraging peers.
One of the great beauties of Divine Mercy is that the majority of teachers have been chosen because they have been the best of the best for years at various traditional co-ops and were asked to come and work at this co-op. Although I have enjoyed my time as a co-op teacher, my life has been too busy to give to teaching a co-op course. Being able to pay a reasonable sum to enlist the help of seasoned teachers has been the perfect solution.
Peace of Mind: Christina Regala
DMHC has been a true blessing to our family and my peace-of-mind. As my older children have grown in knowledge and interests, I have felt more and more inadequate to meet all those needs. When my eldest had reached a point where he responded better and was more accountable to another teacher, we started searching. We looked at other co-ops and were unable to satisfy each child within one co-op. DMHC has provided both supplemental and core subjects that fit our family perfectly. In addition, my children enjoy good wholesome friendships. I have found more peace working with my kids at home, knowing that they are receiving well-rounded education through the wonderful teachers at DMHC who are excited about their classes and invested in my children's learning.